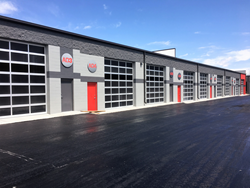 "Personal Warehouses are smaller, more affordable, flexible spaces you own. They are ideally suited for small business, creative office, car collectors, man caves and much more. A Personal Warehouse is the perfect place to Work – Store – Play." Steve Garrison - Founder
ROUND ROCK and AUSTIN, Texas (PRWEB) October 30, 2018
New real estate product coming FIRST to Round Rock. PW Development, LLC is pleased to announce the upcoming development and construction of the first Personal Warehouse project at 2100 Double Creek Drive, Round Rock Texas. This is the first of 5 locations across Austin and will deliver in the Spring of 2019. No matter the need – business, storage, or fun – a Personal Warehouse the solution. Standard amenities include HVAC, finished private restrooms, 14 x 14 overhead doors, 65' drive aisles and unlimited access. Customized spaces with mezzanines to maximize uses while enjoying private balconies giving more light and access to a personal deck. Owning a unique space is NOW POSSIBLE and more affordable than ever.
PW Development has decades of experience leading the small bay warehouse and incubator industry. During that time Personal Warehouses have grown in popularity and diversity of usage. Through the development of dozens of projects and hundreds of sales, the demand has grown from a "simple" RV storage garage to a vibrant community made up of toy collectors, hobbyists, and business owners.
The Round Rock Personal Warehouse Project is easily accessible from I-45 just East of I-35 on Double Creek Drive and just South of Gattis School Road. The project consists of 41 For Sale Warehouse Condo Units available in various sizes from 750 SF up to several thousand. All units are approved for mezzanines and small offices or as just storage or distribution space. Pre-Construction pricing will be released by November 1st, 2018; however, buyers can reserve their space now for a $1,000 refundable deposit to secure the best price and location within the project.
"PW Development and the Personal Warehouse concept is a smaller, more affordable, flexible space you own. The spaces are ideally suited to Work – Store – Play. Whether you have a small business looking for flex or creative office or are a car collector or need a man cave to store all your toys – a Personal Warehouse is the ideal solution for you." Steve Garrison - Founder
Work
Looking for a creative, original work space? Personal Warehouse is an affordable solution which creates the ideal space for business. With unique and flexible options to customize the warehouses to complement a brand and meet a specific need.
Store
Have a passion for vehicles, collectibles, or RVing? Owning a Personal Warehouse is a great way to store valuables in a secure and affordable building. Flexible sizes and customizable options take storage to the next level with custom spaces as unique as their owners.
Play
Need a place to get away or spend time on creative interests and passions? Owning a Personal Warehouse can bring this vision to life! Build a man cave, private get-away, studio or gaming facility! Customize the unit with custom options such as a mezzanine, restroom, wet bar and more!
Features / Amenities / Options:

Approved for Expanded Uses to Work – Store – Play
Energy Efficient Insulated Masonry Block Construction
LED Lighting
Mezzanines Pre-Approved up to 1/3rd of the unit size
Balcony's – on select units and includes slider door to private deck
Finished Private Restrooms
HVAC & 3 Phase 150A Power
14 x 14 Overhead Doors with Automatic Operators
Custom Flooring & Cabinet Systems
Ave Clear Height over 20'
Wide Paved Aisles with Ample Parking
For Sale & For Lease Options
Why Own?
The time and reasons for ownership have never been stronger. Ownership provides an opportunity to build equity, lock in fixed interest rates at historical low rates, tax benefits for business owners and investors, the ability to customize a space and most importantly it is cost effective.
"On average, an owner will save up to 50% a month owning versus renting. Rental rates nationally have increased 5.4% year over year upon industrial properties since 2015. Office rents have increased comparatively by 4.1%, and rising rents have made ownership more attractive and much more affordable. Vacancies are running at all-time lows meaning demand is increasing which will continue to apply pressure to rising rental rates. Like owning a home – owning space for business or pastimes makes more sense than ever." Steve Garrison, Founder
For more information about this topic and other upcoming projects across Texas, please contact Steve Garrison at 303-564-0200 mobile or 512-522-4833 work, or email GarrisonBrokerageGroup@gmail.com