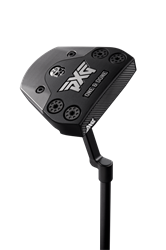 "With alignment aids for putts at every distance and a deep CG position for outstanding stability, the new One & Done Putter is designed to help you seal the deal on the green."
SCOTTSDALE, Ariz. (PRWEB) November 11, 2020
PXG, an innovative golf company dedicated to developing high-performance equipment and apparel, has released the second putter in its Battle Ready Collection. The new One & Done Putter is a 100 percent milled, high MOI, mallet-style putter with visually prominent alignment features to dramatically increase confidence on the green.
"With alignment aids for putts at every distance and a deep CG position for outstanding stability, the new One & Done Putter is designed to help you seal the deal on the green," PXG founder and CEO Bob Parsons shared. "Drop it in with one stroke, and you're done. The name says it all."
Like all putters in the Battle Ready Collection, the One & Done has been fully optimized for maximum performance - from the center-of-gravity (CG) and moment of inertia (MOI), to stability, balance, and weighting. The One & Done features a bi-material construction, integrating aerospace-grade aluminum with high-density tungsten to support a deep CG. The heavier tungsten material effectively shifts the CG position .58" farther back, benefitting both swing and stability dynamics.
PXG's innovative Pyramid Face Pattern has been optimized to increase hit velocity across the face by reducing the groove depth. The updated face design further supports consistency in all significant factors that affect roll, including initial ball velocity, launch angle, spin rate, and skid distance.
At address, the One & Done presents a golf ball-sized disk, high-contrast parallel lines, and a single sightline. These intuitive alignment aids work together to enhance accuracy for short, mid, and long putts.
To further dial-in the One & Done for a player's unique stroke style, the putter can be configured with one of four PXG hosels – Plumber's Neck, Heel Shafted, Double Bend, or Armlock. In conjunction with the hosel chosen, the clubhead and PXG's signature sole weighting dictate the overall club head mass.
Four weights, found in the One & Done sole, offer 70 grams of adjustable mass. These weights also help fine-tune the putter to support desired launch conditions. Players who typically pull putts may benefit from adding heavier weights to the toe side of a putter, while those who push putts may add heavier weights to the heel side.
As with all clubs in the Battle Ready Collection, the sole boasts PXG's distinctive Darkness insignia – a skull with the number 26 – commemorating Parsons' combat service in the 26th Marine Corps Regiment during the Vietnam War.
Built to spec, the One & Done retails for $525 but is being introduced at a special price of $395. For more information or to book a putter fitting, visit PXG.com or call 844.PLAY.PXG.
ABOUT PARSONS XTREME GOLF
American entrepreneur and philanthropist Bob Parsons founded PXG - Parsons Xtreme Golf - in 2014. Leveraging breakthrough technology and sophisticated manufacturing processes that integrate high-performance alloys, PXG produces some of the finest golf clubs in the world.
PXG's professional staff includes Zach Johnson, Pat Perez, Ryan Moore, James Hahn, Wyndham Clark, Jason Kokrak, Joel Dahmen, Scott Langley, Grant Hirschman, Mina Harigae, Lydia Ko, Anna Nordqvist, Brittany Lang, Celine Boutier, Austin Ernst, Christina Kim, Katherine Kirk, Haley Moore, Ryann O'Toole, Gerina Piller, Jennifer Song, and Linnea Strom.
PXG offers a full lineup of right- and left-handed clubs, including drivers, fairway woods, hybrids, irons, wedges, and putters, as well as high-performance, fashion-forward apparel.