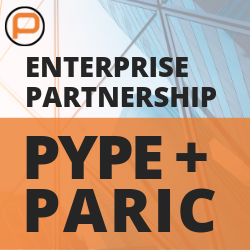 "Providing best-in-class technology inspires teams to find new ways to bring value to their projects," said Andy Leek, VP of Technology and Innovation at PARIC Corporation. "Pype improves the quality of individuals' experience and helps them get even more out of BIM 360."
WASHINGTON (PRWEB) September 17, 2019
Pype, a leading software-as-a-service (SaaS) suite of products for the construction industry, announced today its enterprise partnership with St. Louis-based PARIC Corporation, an industry leader in technology adoption, for use of AutoSpecs in their project teams' submittal workflow nationwide.
Pype and PARIC have worked closely to create a mutually beneficial partnership based on Pype's strong BIM 360 integration that elevates The PARIC Way, employed by all PARIC project teams as a standard for processing submittals. This long-term partnership stems from PARIC's commitment to providing project teams with the latest technology to enhance job satisfaction and productivity.
"Providing best-in-class technology inspires teams to find new ways to bring value to their projects," said Andy Leek, VP of Technology and Innovation at PARIC Corporation. "Pype improves the quality of individuals' experience and helps them get even more out of BIM 360."
Pype and PARIC both value the importance of software tools that easily collaborate for seamless data transfer. PARIC project teams leverage Pype's integration with BIM 360 to provide project teams access to all data as quickly and efficiently as possible.
"Pype has several integrations with industry leading project management platforms, and PARIC leverages Pype's integration with BIM 360," said Karuna Ammireddy, Co-Founder and CTO of Pype. "Integrations have and will continue to be a priority across all of our Pype products. We will continue to improve workflows as we partner with industry leaders like PARIC to build out more seamless and robust project solutions."
PARIC evaluated Pype AutoSpecs on multiple pilot projects across project team metrics and management business goals. PARIC found value in the drastic time savings as well as the way it elevated project teams' use of BIM 360.
"PARIC project teams in the field told us that they simply have to have AutoSpecs," said Travis Byerley, VDC Coordinator at PARIC. "It saves them a ton of time, helps them understand the origin of each submittal, and they're actually able to get even more value out of BIM 360. This also helps them focus on higher priority tasks that provide more value to the project overall."
After receiving strong grassroots endorsements from project teams, PARIC saw there was a need, and focused on the implementation with Pype as a solution. With open-minded and positive communication from both sides, Pype and PARIC worked through issues, new ideas, and quickly came to solutions together.
"Pype works as an enterprise solution," said Leek. "We were able to roll AutoSpecs out quickly across a dozen projects and really start making forward progress. We've been able to get this work done for the last 40 years, but Pype just helps us do it better while staying contract compliant."
The benefits that stem from this partnership don't end at Pype and PARIC—both companies are invested in long term industry change.
"Pype strives to drive the industry forward by using patented machine learning technology to solve manual workflow problems facing construction project teams," said Sunil Dorairajan, Co-Founder and CEO at Pype. "We worked closely with teams at PARIC to identify ways we could improve their submittal workflows, and they identified ways our technology could better address their needs. We truly have a partnership built on mutual improvement not just for our companies, but for the construction industry as a whole."
About Pype
Pype is the construction industry's first SaaS provider for submittal log management and project closeout. By using patented AI and machine-learning algorithms, our platforms liberate project teams from error-prone spreadsheet workflows and ensure contract compliance from precon through closeout. These cutting-edge solutions present unprecedented insights on spec and closeout data to help teams extract actionable information from specifications and plans to close communication gaps between design, construction, and operations teams. Over 40% of the ENR top 400 use AutoSpecs and Closeout on projects coast-to-coast to provide a higher level of quality assurance, efficiency, and risk management using Pype's exceptionally accurate and richly integrated software technology. For more information, please visit https://pype.io, or call 866-860-7973.
About PARIC Corporation
PARIC, one of the largest privately-held St. Louis-based companies and ranked nationally in the ENR top 200, pairs its unique construction management approach and negotiated general construction techniques to take projects beyond expectation. Established in 1979, PARIC specializes in commercial and interiors, education, healthcare, historic renovation, hospitality and entertainment, municipal, and senior living.