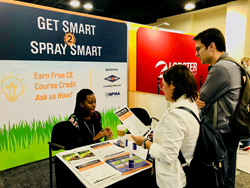 Pyrethroids are a valuable tool for the industry and must be responsibly applied. This course is intended to help achieve this goal.
ORLANDO, Fla. (PRWEB) October 24, 2018
The Pyrethroid Working Group (PWG) today announced the launch of a free online continuing education course aimed at protecting the nation's waterways from pesticide runoff by promoting best practices among pest management professionals (PMPs).
The organization's industry stewardship program, PWG2PMP, partnered with the National Pest Management Association (NPMA) to develop the free continuing education course, which focuses on proper pyrethroid application methods and the importance of regulatory compliance. Participants can earn one credit.
"We're excited to partner with NPMA to provide critical resources to help PMPs operate according to best practices and regulations," said Jill Holihan, spokesperson for PWG. "Pyrethroids are a valuable tool for the industry and must be responsibly applied. This course is intended to help achieve this goal."
The free online training course, Using Pyrethroids Responsibly for Effective Pest Management, is approved for continuing education credit in most states. Lasting one-hour, this course was designed to train PMPs on the responsible application of pyrethroid insecticides to promote effective pest management while mitigating the risk of non-target exposure.
"The training provides an in-depth review of pyrethroid label restrictions and guidelines for use, as well as a general overview of pesticide classes, best practices for application, and pesticide safety," said Holihan. "We're happy to present the training to professionals at PestWorld and the nation."
This training course is accessible through NPMA's online education portal, free of charge. To access this free training, PMPs can follow these easy steps:
1: Visit: npmatraining.org
2: Click "Purchase New Content/Create New Account" – You will NOT need to pay for access
3: Log in using your NPMA User ID if you've used the site before, or create a new account and follow the prompts
4: Click "Select Courses"
5: Scroll down and click "Add" next to course Using Pyrethroids Responsibly. California PMPs can select the CA-Specific version, Using Pyrethroids Responsibly in California
6: Scroll to the top of the page and click "Continue" under Order Summary and follow prompts
7: To access your course(s), click on the "Go to NPMA Online Learning Center" button, or access through the email sent to you from NPMA.
If attending PestWorld in Orlando this year, visit PWG2PMP in booth #2103 to learn more about the course.
About PWG2PMP
PWG2PMP is a program funded by the Pyrethroid Working Group (PWG). Through http://www.pwg2pmp.com and other educational materials, the industry alliance promotes the responsible use of pyrethroid pest control products, protecting the environment and providing Pest Control Operators (PCOs) with the most current policies and regulations pertaining to pyrethroids. The PWG is comprised of the following companies: AMVAC Chemical; BASF Corporation; Bayer CropScience; FMC Corporation; Syngenta Crop Protection; and Valent BioSciences Corporation.