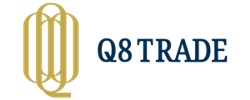 Mont Fleuri, Mahe, Seychelles (PRWEB) October 22, 2020
Q8 Trade is proud to announce that Arabic Traders no longer need to worry about riba-based transactions thanks to Q8 Trade's new Islamic trading accounts, as now they can trade in the global financial markets with 100% interest-free positions.
Globalization with the help of our advanced technology had opened the door for the people of all Arabic nations, it's now easy to access, and even easier to trade.
The Q8 Trade team respects the needs of the Muslim religion and Arabic culture, therefore the brand is offering a personalized trading offer for Arab and Muslim traders, via a system governing mechanism of operation of wealth and money in a manner consistent with the provisions in force.
Trade with the Q8 Trade Islamic Account
The Q8 brand is glad to announce that traders wanting to open an Islamic account will benefit from multiple features, including open 100% interest-free position, access to exclusive educational resources, trading via MetaTrader, WebTrader, or smartphone, as well as the ability to invest in a wide range of instruments like currency pairs, shares, precious metals, and commodities.
Unlike most of the other brokers, Q8 Trade stands out with a more permissive policy regarding Islamic accounts. This option is not limited to any one of a particular nationality or religion.
Islamic trading is used all over the world and any trader wanting to get an Islamic account may do so, without any restrictions. Managed by a specialized team with 30 years' worth of experience in the investing sector, the Q8 Trade Islamic accounts can attest great confidence in the company's abilities to provide services via the best Islamic trading platform in the GCC.
Sharia infringements occur in regular trading accounts through the usury interest fees applying on open positions. As a decentralized market, FOREX is open 24/5 and each trading day at midnight trading platforms charge a fee for open positions, known as swaps.
This is an infringement of Sharia provisions and Muslims are forbidden to deal with riba-based benefits according to the noble Quran. Since it discourages them to get involved in global financial markets, the Q8 Trade Islamic account excludes the swap and does not compensate it in any other form or name, to circumvent the Sharia provisions.
All traders working with Q8 Trade can now benefit from swap-free accounts and thus trade on a wide range of markets with lower costs. Q8 Trade is committed to further enhance its trading offer and constantly provide new incentives so its customers will be satisfied.
Unless a trade is not open for more than 10 consecutive days, the broker will not impose additional charges, creating a competitive advantage from a cost perspective, as compared to other reputable online brokers.
About Q8 Trade
Q8 Trade is an online trading brand specialized in providing access to a wide range of markets, including forex, commodities, indices, and stocks. Via reputable trading software, useful educational resources, and tools, it aims to enable broad access to global financial markets, including for Muslim traders, via Islamic accounts.
###