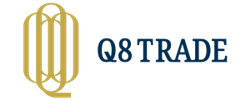 Mont Fleuri, Mahe, Seychelles (PRWEB) October 22, 2020
Q8 Trade, an online trading platform focused on clients from the MENA region, aims to take trading education to the next level, which is why it had recently announced a partnership with the Hawks Trading Academy, a place where clients will be able to get certified, learn how to trade, and benefit from a wide range of educational resources.
Becoming a professional trader requires any individual to accumulate key information about the markets, trading strategies, risk management, technical or fundamental analysis. The Hawks Trading Academy integrates all the necessary knowledge to take trading to the next level, no matter the previous background or experience traders have.
Benefits of the Hawks Trading Academy
With the partnership between Q8 Trade and the Hawks Trading Academy, clients can become certified traders and thus get all the benefits they deserve to receive when trading with a licensed broker. The company's certification program allows access to videos and articles that put traders on the right track to start their trading journey and get all the educational resources they need.
Given education is the cornerstone of the services provided by Q8 Trade, the Academy will provide clients with all the tools and education needed in order for them to become professional traders. The Hawks Trading eBooks is one of the most popular resources designed for aggressive traders looking to conquer the currency markets. It provides strategies and tips for setting entry and exit points, as well as finding profitable trades, making sense of the randomness of the forex markets, and how to attack these markets for success.
Finding all the educational resources required to become a profitable trader in one place is relatively hard, as traders need to search for information in many different places, read tons of books and attend webinars charged expensively by various online mentors. With access to the Hawks Trading Academy, traders working with Q8 Trade will get access to all the resources free of charge, only being required to open a real account and make a deposit.
Integrating education alongside industry-leading trading conditions
Providing access to educational resources is only a fraction of the services provided by Q8 Trade. The broker is well-known for its competitive trading services. It had developed a proprietary web-based trading platform, a mobile trading app, and offers support for the popular MetaTrader 5 platform. Traders can choose between 5 different account types, multiple deposit/withdrawal methods, and benefit from a wide range of trading features.
Q8 Trade is a trading brand aiming to be a leader in online trading services, opening access to Western-like trading conditions for traders based in the MENA region. Its years of experience in the field as well as the countless positive feedback, combined with the benefits of the Hawks Trading Academy collaboration, make Q8 Trade an optimal place to trade.
About Q8 Trade
Q8 Trade is an online trading platform offering access to competitive services. The brand is specialized in providing access to a wide range of markets, including FX, stocks, indices, and bonds. It offers traders access to various educational resources via collaboration with the Hawks Trading Academy and ensures the highest trading standards for customers based in the MENA region.