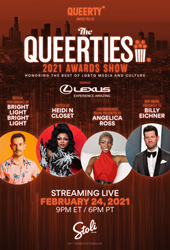 Our readers are incredibly tuned in to pop culture, so the Queerties provide a perfect outlet to make their voices heard
LOS ANGELES (PRWEB) February 22, 2021
Q.Digital and Lexus will present Angelica Ross with the Groundbreaker Award at this year's Queerties, the annual award show produced by Queerty celebrating the best in LGBTQ culture and media. Billy Eichner will receive the MVP award for inspiring a get-out-the-vote campaign while staying safe throughout the pandemic.
Hosted by RuPaul's Drag Race Season 12 Miss Congeniality Heidi N. Closet and Queerty Editor-in-Chief Dan Tracer, the show will include an exciting musical performance by Bright Light Bright Light.
"I've been voting for the Queerties as a fan for years, so it's very exciting to not only be a nominee this year but the host of the show!" said Drag Race star Heidi N. Closet. "I'm honored to help celebrate so many amazing and diverse members of our community, and the incredible work they put out during such a challenging year."
The awards ceremony will stream live at 6pm PST / 9pm EST on February 24 at Queerty.com as well as on its Facebook and YouTube pages. Revry will for the first time broadcast the event (including Revry's third-party channels on Samsung TV Plus, Roku Channels, Xumo, Stirr, Apple TV).
The event features a virtual red carpet and the ceremony will include celebrity appearances by Nicco Annan, James Bland, Isis King, Jai Rodriguez, Cameron Esposito, Shangela, Jinkx Monsoon, BenDeLaCreme, Willam, Alaska, HBO's Veneno star Isabel Torres and many more.
Fans broke records with well over 1.5 million votes in 23 categories, including Drag Royalty, Closet Door Bustdown, Favorite Podcast, Favorite Instagram and TikTok Follows, Best Documentary, and Badass of the Year, a popular category presented by Stoli.
"Our readers are incredibly tuned in to pop culture, so the Queerties provide a perfect outlet to make their voices heard," said Tracer. "This year is extra exciting because the show is streaming digitally so voters from all around the world get to attend for the first time!"
Rebroadcasts will also be available on Revry to watch for free On Demand.
Queerties Talent Scheduled to Appear

Angelica Ross (Pose, American Horror Story)
Billy Eichner (The Lion King, American Horror Story)
Heidi N. Closet (RuPaul's Drag Race)
Bright Light Bright Light (Musician)
Emily Hampshire (Schitt's Creek)
Jo Ellen Perlman (The Prom)
James Bland (Giants)
Isis King (America's Next Top Model)
Jai Rodriguez (Queer Eye for the Straight Guy)
Cameron Esposito (Comedian, Take My Wife)
Shangela (RuPaul's Drag Race, HBO's We're Here)
Nicco Annan (P-Valley)
BenDeLaCreme (RuPaul's Drag Race, Jinkx and Dela Holiday Special)
Trixie Mattel (RuPaul's Drag Race)
Katya (RuPaul's Drag Race)
Kevin Spirtas (After Forever)
Charles Curtis (The First)
Isabel Torres (Veneno)
Jack Plotnick (Call Me Kat, Grace & Frankie)
Alaska (RuPaul's Drag Race)
Willam (RuPaul's Drag Race)
Big Dipper (Musician, Postcast host)
Blossom Brown (Actress, producer, activist)
Eric Cervini (Author: The Deviants)
Josh Helfgott (TikTok star)
Meatball (Dragula)
Megan Mitchell (News anchor, TikTok star)
Michael Henry (YouTube star)
Ultra Naté (Singer, Music producer)
Jason Stuart (Smothered)
Mitch Hara (Smothered)
Jason Wimberly (Working Out is a Drag)
Juan Pablo Espinosa (Half Brothers)
Juli Delgado Lopera (Author: Fiebre Tropical)
Kiki Xtravaganza (Gayish 2)
Leanne Noelle Smith (The Influencers)
Luciana Faulhaber (The Influencers)
Mike Heslin (The Influencers)
Noam Ash (The Influencers)
Cast of the digital series "Platonic"
Jayla Roxx (Gayish2)
Gretchen Wylder (These Thems)
The Angelenos (Ariana & Hannah)
Leigh Holmes Foster and Ellie Brigida (Hosts of Lez Hang Out podcast)
Rachel Mason (Filmmaker: Circus of Books)
Robert Jones Jr. (Author: The Prophets)
Roberto Portales (Instagram Influencer)
Samantha Gracie (The Influencers)
Shaan Dasani (These Thems)
Starr McQueen (TikTok star)
Summer Spiro (Platonic)
Tim Spencer (Ding Dong I'm Gay)
Tim Zientek (The First)
Vico Ortiz (These Thems)
Will Branske (The First)
About Q.Digital
As an LGBTQ-owned and operated, National Gay and Lesbian Chamber of Commerce & ANA certified business enterprise, Q.Digital is the trusted voice for news, entertainment, and travel in the LGBTQ community, reaching a highly engaged audience of more than 9.5 million per month. Q.Digital connects brands to the market through its digital properties— Queerty, the popular entertainment and pop culture site; GayCities, the travel site covering 238 destinations worldwide; and LGBTQ Nation, America's most-followed LGBTQ news source.
Q.Digital is an indispensable resource for individuals seeking inspiration for their life's experiences. Q.Digital enables major brands such as Hulu, Gilead, Lexus, and MasterCard to connect with an LGBTQ audience on a personal and credible level through branded content, custom video, events, and promotions. Digital programs and custom events include the Queerties (February), Pride 50 (May to July), Heroes (September), and Best of GayCities (December).
Media Contact: Adam Salandra
adam@q.digital
About Queerty
Queerty is the leading entertainment brand for and inspired by the LGBTQ community. It is the most-visited website in the United States LGBTQ market and the #1 website for U.S. LGBTQ Millennials. Queerty is owned and operated by Q.Digital, Inc. For more information, please visit http://www.queerty.com, and find @Queerty on Facebook, Instagram, and Twitter.
About Lexus
Lexus' passion for brave design, imaginative technology, and exhilarating performance enables the luxury lifestyle brand to create amazing experiences for its customers. Lexus began its journey in 1989 with two luxury sedans and a commitment to pursue perfection. Since then, Lexus has developed its lineup to meet the needs of global luxury customers in more than 90 countries. In the United States, Lexus vehicles are sold through 242 dealers offering a full lineup of luxury vehicles. With six models incorporating Lexus Hybrid Drive, Lexus is the luxury hybrid leader. Lexus also offers eight F SPORT models and two F performance models. Lexus is committed to being a visionary brand that anticipates the future for luxury customers.
http://www.facebook.com/lexus http://www.twitter.com/lexus http://www.youtube.com/LexusVehicles http://www.instagram.com/lexususa
About Revry
Watch Queer TV 24/7 with the first LGBTQ+ digitall cable TV network. Revry offers free live TV channels and on-demand viewing of its global library featuring LGBTQ+ movies, shows, music, podcasts, news, and exclusive originals all in one place! Revry is currently available globally in over 250+ million households and devices and on seven OTT, mobile, and Desktop platforms. Revry can also be viewed on nine live and on-demand channels and Connected TVs including: The Roku Channel, Samsung TV Plus, Comcast Xfinity X1, Cox, Distro TV, Plex, Galaxy TV, Local Now, VIZIO, Zapping TV, STIRR, TiVo, and as the first LGBTQ+ virtual reality channel on RAD (available on PlayStation devices). The company– an inaugural member of the Goldman Sachs Black and LatinX Cohort–is headquartered in Los Angeles and led by a diverse founding team who bring decades of experience in the fields of tech, digital media, and LGBTQ+ advocacy. Follow on Facebook, Twitter, and Instagram @revrytv, Revry.tv