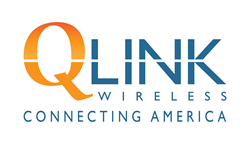 We're going to help even more people who would likely have a tough time getting a conventional contract from one of the 'Big Four' carriers.
DANIA BEACH, Fla. (PRWEB) October 23, 2018
Q Link Wireless will launch one of the nation's most affordable prepaid cellular phone plans, Q Link Mobile, the company's founder and CEO, Issa Asad, announced today. Q Link Wireless already serves nearly two million customers in 29 states and Puerto Rico through the Federally-run Lifeline program, which provides subsidized voice and data service to low-income Americans. Today's announcement, however, will expand Q Link's reach nationwide and mark its entry into the multibillion-dollar prepaid sector.
Through the company's new service, customers can prepay for cell phone service using their existing devices, or purchase a phone through Q Link. And as a special introductory offer, Q Link's prices are half of that of most prepaid providers. Customers still receive unlimited data and free roaming, as well as international calling to more than 60 countries. Customers who want to purchase voice and data from Q Link can complete their entire transaction online within minutes.
"This is the first time we'll be able to serve customers all over the country, even in those states where we don't provide Lifeline services," said Issa Asad, founder and CEO of Q Link Wireless. "We've made enormous progress toward expanding connectivity for lower-income Americans through our Lifeline division, especially by delivering wireless service to people in rural areas who have no other means to stay connected. Now, we're going to help even more people who would likely have a tough time getting a conventional contract from one of the 'Big Four' carriers."
With prepaid plans, customers pay in advance each month for the amount of talk, text, and data they choose. Historically, customers were more likely to choose prepaid phone services to sidestep burdensome contracts and credit checks. Prepaid users don't require credit checks because they pay at the start of service, compared to contract phone services that tally up costs at the end of each billing cycle and charge at that time. Prepaid plans already comprise a large portion of the wireless market, and popularity continues to grow.
"Customers want the flexibility and portability of prepaid plans," said Rafa Carvajal, Q Link's chief operating officer. "We anticipate our new prepaid service will add more than 50,000 new customers to our ranks by the end of the first quarter of 2019."
To sign up for Q Link's services, visit http://www.QLinkMobile.com. For more information about Q Link Wireless, or to schedule an interview with Issa Asad, please contact Meieli Sawyer at 305-668-0070 or msawyer@weinbachgroup.com.
About Q Link Wireless
Q Link Wireless, a Quadrant Holdings Company, is one of the nation's leading providers of wireless voice and data service through the Lifeline Program. With nearly two million customers, Q Link is wirelessly connecting people to the world around them, regardless of their income.