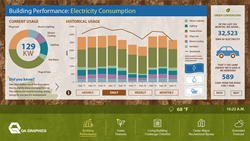 ANKENY, Iowa (PRWEB) October 09, 2018
QA Graphics, creator of the award-winning Energy Efficiency Education Dashboard®, is proud to announce its new partnership with Infinite Automation Systems. Together, both companies will unveil QA Gateway, an embedded Data Acquisition System powered by Infinite Automation Systems' Mango Software Platform.
The QA Gateway is a standalone data logger that allows you to collect data in real time from multi-source protocols accurately and efficiently. To display real-time data, the solution integrates with existing automation systems and does not require custom software or an internet connection, thereby eliminating security risks.
It can be easily deployed in any network configuration, conforming to IT security policies, and the gateway allows you to view collected data through its easy-to-use, web-based interface.
QA Gateway Key Features:

Points are brought in the CMS to be configured for easier management
Ability to pull more points in
Data storage capable of housing millions of historical points
Ability to read multiple protocols
No internet connection required
Ownership of the EEED v6 allows the client to control and maintain the building within their IT protocols
Client owns their data
To learn more about the Energy Efficiency Education Dashboard® and the QA Gateway, please contact 515.965.3403 or visit the website.
About QA Graphics—QA Graphics is a leader in the building automation and green building industries. The company specializes in HVAC graphic development services, system graphics, floor plan graphics, and Energy Efficiency Education Dashboards™ (EEEDs). The company also provides custom marketing solutions such as interactive applications, 3D design and animation, UX design, web development, videos, and more. Visit http://www.qagraphics.com to learn more.
Infinite Automation Systems—IAS is a group of professionals who focus on software design and development, project management, consulting, customer support, electrical engineering, and graphic design. IAS works with individuals and companies around the world across many industries, primarily Industrial Internet of Things (IoT) as it relates to energy management systems, renewable energy, data centers, and building optimization. Visit https://infiniteautomation.com to learn more.