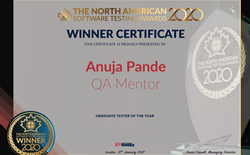 We are thankful to all our employees around the world for this tremendous success and achievement. You have to follow your dreams and believe in success by working hard, smart and always be passionate in what you do.
NEW YORK (PRWEB) February 05, 2021
QA Mentor, a New York multi-awards winning a CMMI Level 3 SVC + SSD v1.3 appraised, ISO 27001:2013, ISO 9001:2015 and ISO 20000-1 leading software quality assurance and testing services provider, is excited to announce that they have been honored for the second year in the row with the prestigious Graduate Tester of the Year Award from The North American Software Testing & QE Awards.
This prestigious program celebrates companies and individuals who have accomplished significant achievements in the software testing and quality engineering market. It is a fiercely independent awards program that recognizes and rewards outstanding performance and so to make it to the finals is a massive achievement but to win an award really is monumental.
The Graduate Tester of the Year award is reserved for the recent graduate who has completed university or an apprenticeship scheme in the last 2 years, who has shown outstanding commitment and development in the testing field. Judges were looking for evidence of outstanding commitment and development in the testing field, proof of excellent communication skills with all stakeholders, efforts to keep up-to-date with trends, guidelines and best practices in the industry, evidence of a dedication to self-training and improvement as well as demonstration of successful outcomes that meet the aims and targets set.
Anuja Pande from QA Mentor was honored to receive the Graduate Tester of the Year award.
Ruslan Desyatnikov, founder and CEO of QA Mentor said, "We are super excited to win such a prestigious award for the second year in the row. Consistency is the key but all jokes apart, we would like to congratulate Anuja Pande for this outstanding recognition. It proves again that QA Mentor can transform college graduates with no experience into seasoned QA Professionals in a short period of time via our unique training/coaching programs, mentoring, guidance and our unique e-learning courses at QA Mentor University. We are also very happy that we were very close to winning as a finalist in 4 other categories: Testing Management Team of the Year, Testing Team of the Year, Test Manager of the Year and Leading Vendor."
Ruslan continued, "I want to take this opportunity and thank our clients, fans and supporters for your continuous support, trust and believing in us. We will celebrate this huge accomplishment this week but next week we will look to the future as we need to move forward to our top mission of becoming the #1 Software Testing Company in the world. It was a very challenging year for QA Mentor due to pandemic but I am glad we have recovered and completed Year 2020 strong with such an amazing award. We will continue to follow our dreams, since without them there is no success."
About QA Mentor
QA Mentor is multi-awards winning a CMMI Level 3 SVC + SSD v1.3 appraised, ISO 27001:2013, ISO 9001:2015 and ISO 20000-1 certified leading software testing company headquartered in New York. With 312 global QA resources in 8 different countries offering more than 30 QA Testing Services and covering all time zones, QA Mentor is a global leader in Software Quality Assurance and Testing space.
Serving 427 clients from Fortune 500 to start ups in 28 countries, QA Mentor supports applications in 9 different industries. With unique products propositions from a crowdsourcing platform with a pool of 12,000 crowdsourced testers to a test management platform, unique and economical services offerings and QA education from e-learning and corporate training, QA Mentor continues its growth, expansion and footprint around the globe.