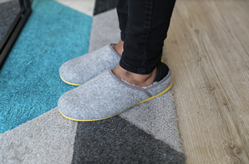 Every detail from the feel of the interior to the function of the sole has been carefully considered and perfected in HiLounge.
LONDON (PRWEB) May 21, 2020
A revolution in leisure footwear has arrived in HiLounge, the new slipper-shoe from Qaimew. Launching a pre-order campaign on Kickstarter, HiLounge offers versatility with a no-slip outsole, a plush temperature and moisture control interior, and a modern-looking exterior.
People are looking for footwear solutions that fit all their needs, and they're not willing to sacrifice comfort. Solutions that are comfortable, stylish and multifunctional are hard to come by. Slippers don't hold their shape and aren't fashion-forward enough for quick errands outside of the home. Sneakers, while functional, lack total comfort when inside the home relaxing.
HiLounge offers the best of both worlds. It combines the plush comfort of a slipper and the style and function of a casual shoe. HiLounge offers newfound versatility in a shoe designed to be worn daily.
According to NPD, sport leisure footwear is quickly becoming the largest sector of the footwear industry, outpacing fashion footwear. This follows the popularity of athleisure in clothing, as people seek out comfort in the things they wear. HiLounge perfectly fits into the seam of functional casual shoes and in-home footwear.
"We analyzed current slippers and shoes and improved upon them," said Junaid Hussain, co-founder of Qaimew. "Every detail from the feel of the interior to the function of the sole has been carefully considered and perfected in HiLounge."
HiLounge features a unique two-piece upper made of 100% felt material. This provides soft and flexible support that contours to the foot for a sock-like fit. One piece of material extends across the toes to the middle of the foot. A collapsible heel is stitched to the felt upper and can be worn flat against the sole or up around the ankle as a full shoe. A TPU outsole provides 20% more traction on wet and dry surfaces and 25% more cushioning than similar product outsoles because of its exclusive comblite tread.
For comfort, HiLounge is lined with Qaiwool, a proprietary plush merino wool blend material. It's moisture wicking and heat regulating to ensure total comfort. A Coze insole, also made of natural wool, wicks moisture from the foot to keep it dry and odor-free.
HiLounge comes in combinations of light grey or charcoal uppers with three color options, ivory, black or yellow, for outsoles. Pre-order HiLounge at pr.go2.fund/hilounge.
About Qaimew
Qaimew is founded by Junaid Hussain. A problem solvers by nature, his team analyzes products centered around comfort and sets out to improve upon them. Their flagship product, HiLounge, helps people pause their hectic lives and take the time to relax. For more information, visit http://www.producthype.co/hilounge.