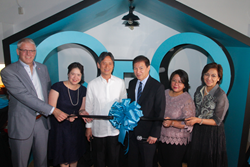 "We are excited to create success stories that will inspire Filipinos to start their own companies instead of pursuing opportunities overseas."
Manila, Philippines (PRWEB) May 03, 2017
QBO, the Philippines' first Innovation Hub, officially opened its doors today for Philippine startups and entrepreneurs looking to bring their ventures to scale and benefit from the various programs being offered by its private- and public-sector partners. Taking its cue from Silicon Valley in the US, Blk 71 in Singapore, and MaGIC in Malaysia, QBO represents the Philippines' pioneering public-private effort to create an innovation community in the country. In partnership with DTI, DOST, IdeaSpace and J.P.Morgan, QBO was established to help speed up growth and learning for startups and entrepreneurs. "We are excited to create success stories that will inspire Filipinos to start their own companies instead of pursuing opportunities overseas," said QBO and IdeaSpace president Butch Meily.
Roberto L. Panlilio, Senior Country Officer, J.P. Morgan Philippines, said, "As one of the world's leading financial institutions, J.P. Morgan celebrates new ideas and we are committed to supporting entrepreneurs in the country, especially those with underserved backgrounds. Engaging with Micro, Small and Medium Enterprises (MSMEs) at their early stages is critical and we are excited about the tremendous opportunities they will bring to developing sectors and generating jobs, which are both vital in promoting prosperous and thriving communities."
"The Philippine startup ecosystem is growing incredibly quickly, fueled by a young population engaged in the internet and digital, and more importantly, by entrepreneurs that demonstrate incredible determination and commitment. By continuing to develop ideas into innovative products and technologies, startups can evolve to become great companies that positively impact the future of the Philippines," said DOST Undersecretary for Research and Development, Dr. Rowena Cristina L. Guevara.
"DTI hopes that with our partners from the industry, academe, and other government agencies like DOST and DICT, our initiatives will help advance the development of our local startup ecosystem and increase the number of high-growth oriented enterprises that will bring the Philippine brand in a global scale," highlighted DTI Undersecretary for Trade and Investments Promotion Group Nora K. Terrado.
Bayanihan for startups
Just like the humble single-room house or kubo that inspired its name, QBO stands for bayanihan or teamwork and a place where the community can come together to help ideas flourish, showcase Filipino innovation and build great companies.
Launched in August 2016, QBO has previously facilitated networking events and a mentor matchup where entrepreneurs could consult with senior corporate executives. This year it will offer more diverse programs at its new office, which will also function as a co-working space and event venue for the startup community.
For a startup to join QBO's programs and services, an initial interview with the QBO team is required. Based on this assessment, a customized plan will be designed to match the startup with the resources it needs. Qualified startups will also be chosen to participate in the J.P. Morgan Incubation Program that will be available to select and high-potential startups all-year round.
From basic startup classes to advanced workshops, group feedback sessions, one-on-one expert consultations, and even to their most exclusive offering, which is the J.P. Morgan Incubation Program – all these are made accessible to Philippine startups through QBO.
###
About QBO Innovation Hub
QBO Innovation Hub, a groundbreaking partnership between the public and private sector, aims to develop, grow, and scale a competitive startup ecosystem in the Philippines. Together with its partner institutions and startups, the startup enabler provides an avenue for collaboration and innovation with the vision of helping Filipino startups change the world. The first QBO hub is located at the ground floor of DTI's International building in Makati, Philippines.
QBO's programs and services available to startups include:

Access to QBO's networking events;
Use of the QBO HQ co-working space;
Professional consultations for legal, accounting, marketing and design;
Referrals to corporate and government partner resources;
Assistance in incorporation, business registration, and IP filing;
Classes, workshops, mentorship and feedback sessions;
Pitching avenues to investors and potential partners;
Opportunity to join the J.P. Morgan Incubation Program.
QBO Philippines – Moving Ideas Forward
375 Senator Gil J. Puyat Avenue
Makati City 1209 Philippines
qbo.com.ph
QBO enhances collaboration, fosters sharing and creates inclusive opportunities for startups to gain exposure to and build linkages with a broader network.
About JPMorgan Chase & Co.
JPMorgan Chase & Co. (NYSE: JPM) is a leading global financial services firm with assets of $2.5 trillion and operations worldwide. The Firm is a leader in investment banking, financial services for consumers and small businesses, commercial banking, financial transaction processing, and asset management. A component of the Dow Jones Industrial Average, JPMorgan Chase & Co. serves millions of consumers in the United States and many of the world's most prominent corporate, institutional and government clients under its J.P. Morgan and Chase brands. Information about JPMorgan Chase & Co. is available.