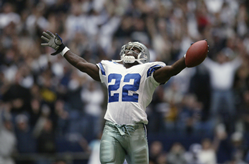 It's always exciting to partner with a company when you've experienced first-hand the quality and effectiveness of their products. - Emmitt Smith, QC Kinetix Spokesperson & Pro Football Hall of Famer
CHARLOTTE, N.C. (PRWEB) May 25, 2021
QC Kinetix, the country's leading regenerative medicine franchise group, announced today its partnership with three-time Super Bowl Champion and NFL MVP Emmitt Smith.
The Charlotte-based company that specializes in using natural biologic therapies to repair or heal damaged tissues and joints instead of relying on steroids, surgery, or pain meds, has found a perfect spokesperson for those looking to treat chronic pain and get back to an active lifestyle.
Pro Football Hall of Famer and Dancing with the Stars Champion Emmitt Smith knows pain!
Between injuries on the field, the wear and tear on his joints from dancing his way to a Mirror Ball Trophy, and a life-long athlete who once said, "You can't play the game if you can't play with pain," Smith understands the benefits of using QC Kinetix's state-of-the-art treatments and the body's own healing properties to treat pain and enjoy an improved quality of life.
"During my 15 seasons in the NFL and then transitioning to my very active life after football, taking care of my body and joints has always been a primary focus for me," said Smith. "When I think about the longevity of my joints, it all starts with what I do today. QC Kinetix provides several different therapies that are state-of-the-art, cutting-edge treatments, which complement and promote the body's natural healing process so well. It's always exciting to partner with a company when you've experienced first-hand the quality and effectiveness of their products."
QC Kinetix is thrilled to be partnering with the NFL's all-time leading rusher to introduce one of the fastest-growing medical specialties to people in need of pain relief.
"Having Emmitt Smith on our team is a big win!" said Justin Crowell, CEO of QC Kinetix. "No one understands joint pain better than he does. But as a winner, he also knows staying on top of his game means staying away from steroids and the operating room and utilizing all the technology and treatments available to stay active and keep enjoying life. He is the perfect spokesperson to introduce our cutting-edge therapies to the public, and we are thrilled to be working with him."
The natural biologic therapies offered at QC Kinetix were once only accessible to elite athletes like Smith but are now being offered to the public through regenerative medical clinics like QC Kinetix.
The global regenerative medicine market is exploding, and QC Kinetix is differentiating itself by providing a high level of care and service to patients in a concierge setting. It is also the only regenerative medicine company offering a franchise opportunity to business owners who want to be part of the burgeoning medical specialty. The industry is currently estimated at more than $13 billion and is predicted to reach more than $172 billion by 2030, a growth rate of more than 26 percent.
For more information about QC Kinetix, "like" our Facebook page, follow us on Instagram, watch us on YouTube, or visit us at http://www.qckinetix.com.
To learn about owning a QC Kinetix franchise, visit us at http://www.qcfranchise.com.
About QC Kinetix
QC Kinetix is a Charlotte, North Carolina-based franchise company leading the way in helping people maintain an active lifestyle using comprehensive regenerative medicine treatments to address musculoskeletal conditions and joint pain. QC Kinetix uses the body's own healing properties through state-of-the-art natural biologic treatments as alternatives to invasive surgery and addictive pain medications. The healthcare franchise currently operates in 17 cities with rapid growth underway throughout the U.S. QC Kinetix clinics are dedicated to maximizing the body's ability to help heal and repair itself from the inside out for vastly improved function and overall quality of life. For more information, visit http://www.qckinetix.com.