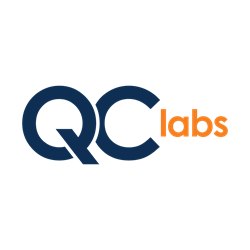 This new ASNT program affirms the proper qualification and certification of our workforce and shows that quality is built into every part of our company
HOLLYWOOD, Fla. (PRWEB) July 14, 2021
QC Laboratories, Inc., a leading non-destructive testing and inspection lab supporting the Additive Manufacturing, Aerospace, Defense, & Space Industries, announced today that it achieved a new accreditation through the American Society of Nondestructive Testing (ASNT)'s new Employer Based Certification (EBC) Audit Program, adding to its portfolio of certifications and accreditations. Becoming the fourth company in the world to earn this accreditation, QC Labs successfully completed the required written practice audit, on-site audit and EBC Program panel approval.
ASNT's EBC Audit Program provides the non-destructive testing (NDT) industry with an audit and registry program that ensures NDT service providers and inspection agencies meet the minimum requirements and comply with either SNT-TC-1A or CP-189 through the employer's written practice.
Commenting on the achievement, Mr. Jose Crespo, General Manager of QC Labs, said: "It was important for QC Labs to pursue this accreditation because we've held ourselves to the highest standard possible for over 50 years. Validation of that is essential to our customers' satisfaction. This new ASNT program affirms the proper qualification and certification of our workforce and shows that quality is built into every part of our company."
For more information about the advantages of accreditation in this ASNT program for QC Labs and its customers, please listen to NDTnow's media interview with QC Lab's Jose Crespo here.
ABOUT QC LABS
QC Labs, a wholly owned subsidiary of Sintavia, LLC, is an industry-leading Non-Destructive Testing and Inspection service provider incorporated in the State of Florida in 1965 with branches in Hollywood, Florida, and Cincinnati, Ohio. QC Laboratories is a well-established leader in providing all disciplines of NDT services across diverse industrial classifications. With its team of NDT Inspectors and AWS certified welding inspectors, the company also performs weld inspections and welder certifications. Additionally, it specializes in high-precision thickness measurements for pipes, storage tanks, and marine vessels. QC Laboratories' best-in-class technicians are certified to the highest industry standards including NAS410 and ASNT Levels I, II and III. Service capabilities are reinforced by its presence in robust industrial markets across the United States. QC Laboratories is also a pioneer in performing non-destructive testing for additively manufactured aerospace components and is a founding member of the Additive Manufacturer Green Trade Association (AMGTA). For more information, please visit http://www.qclabs.net.