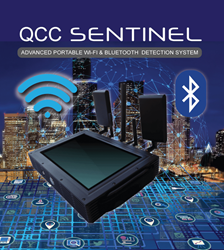 The QCC Sentinel is THE New Essential Tool for Wi-Fi & Bluetooth Detection for Performance of TSCM Inspections, Cyber TSCM Inspections, and Cybersecurity Audits."
VIRGINIA BEACH, Va. (PRWEB) November 03, 2021
ComSec LLC is pleased to announce that the QCC Sentinel Wi-Fi & Bluetooth Detection System is now available in the USA. The Sentinel is the most advanced system for detecting and locating Wi-Fi 2.4 GHz – 5 GHz devices and access points, and Bluetooth 4.0 devices. The system is ideal for conducting TSCM inspections, Cyber TSCM inspections and cybersecurity audits.
QCC Sentinel Highlights:

Detects, analyzes, and locates Wi-Fi and Bluetooth devices whether connected or unconnected.
Identifies access points and devices via MAC address, signal strength, activity level (uplink & downlink), probes and location.
Displays the relationship between an access point and a device.
Provides full direction finding capabilities for Wi-Fi and Bluetooth devices.
Able to increase the communication of Wi-Fi enabled devices to help ease DF location.
Capable of forced disconnection of Wi-Fi enabled devices from connected Wi-Fi network.
Correlates between missions.
Windows / Mac compatible desktop software.
Offline desktop app for managing & reviewing results.
The Sentinel's small form factor (W: 11.8″ x D: 8.3″ x H: 2″) and light weight (just 5.5 lbs.) make it ideal for walk about detection, analysis and direction finding. With a start-up time of less than 30 seconds and touch screen operation, the QCC Sentinel delivers efficient start up and intuitive, user-friendly operation.
"The QCC Sentinel is THE new essential tool for Wi-Fi & Bluetooth Detection for performance of TSCM inspections, Cyber TSCM inspections, and cybersecurity audits," says JD. LeaSure, 30+ year TSCM/Cyber TSCM Expert and President/CEO of ComSec LLC.
The QCC Sentinel is delivered in a ruggedized carry case, with directional and omni directional antennas, battery, a battery charger and AC power supply. The unit is manufactured according to QCC Global Ltd.'s ISO 9001: 2015 certified quality system and is backed by a one-year manufacturer's warranty.
To request additional information or a quote, please visit ComSec LLC's website.
About ComSec LLC:
ComSec LLC is a leading provider of professional technical surveillance countermeasures (TSCM) / Cyber TSCM services in the USA and globally. We also distribute professional TSCM, Cyber TSCM & mobile SIGINT equipment solutions to government, military, law enforcement and corporations.