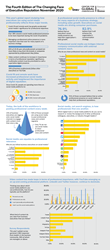 NEW YORK (PRWEB) December 11, 2020
Qnary released the results of its 4th Annual Changing Face of Executive Reputation report today and it is clear that the importance of executive online presence is on the rise during this pandemic challenged year. Several of the core trends that we saw in 2019 such as the rising importance of LinkedIn and Twitter continued. However, we see platforms like YouTube and elements like video coming to the fore. The 2020 study reflects the mindset of professionals who because of the pandemic are rapidly increasing and upgrading their online activities to stay connected and relevant. Qnary partnered with Emerson College and the Blanquerna School of Communications in Barcelona to survey more than 1,000 professionals around the world who are managers or above.
"In a COVID-19 world where executives are jumping from one Zoom meeting to the next, we see them popping over quickly to professional sites like LinkedIn or search engines like Google to research who they are meeting with online," stated Bant Breen, Founder, and Chairman of Qnary. "While the importance of an executive to have a strong online presence has been on the rise for the last couple of years the pandemic has certainly accelerated that digital shift." The 2020 Whitepaper findings reflect this new digital reality. If we were evolving to a more virtual-work model until January of this year, we are now sprinting to a new model for work and communications.
Some of the Report's highlights include:

Over 38% viewed a social media professional presence to be more important during the COVID-19 pandemic
92% of those surveyed use social media to share professional news and content regularly
18-44 year-olds are four times (4x) more likely to post multiple times a day than those ages 45-71
65% of 18-44 year-old professionals surveyed are more likely to buy from the brands or companies represented by professionals they follow
76.9% believe that an executive's social media presence can help their organization's sales growth
90% of business professionals are perusing and/or posting on LinkedIn every week
33% of business professionals follow other executives on YouTube
"Certain channels like LinkedIn and Twitter remain extremely important to executives," outlined Mary Snauffer, Qnary's US President, "however, we are also seeing increased value and importance in executive video content and channels like YouTube." The research was carried out online by Qnary and the Emerson College - Blanquerna Center for Global Communication. There were 1,063 total completed surveys with respondents in 12 countries including the United States, United Kingdom, Spain, France, Germany, Australia, New Zealand, China, India, Singapore, and Japan. The results highlight that there are more professionals reading, reviewing, responding, and writing online thought leadership.
SOURCE Qnary
Related Links
The 4th Edition of The Change Face of Executive Reputation
About Qnary: Qnary is an award-winning professional reputation management and talent branding solutions company. Qnary was listed as one of the 5000 fastest-growing companies in America by Inc magazine and was also listed as one of the 360 best companies by Entrepreneur magazine in 2018, 2019, and 2020. The Company is headquartered in New York City with regional hubs in Spain and Australia.
About Emerson-Blanquerna Center for Global Communication:
The goal of the Center for Global Communication is to promote the academic partnership between Emerson College of Boston and its global academic partner in Europe: Blanquerna School of Communication and International Relations. The main focus is to establish a wide network of collaboration through shared events, conduct applied research with global entities and companies, and carry out training in Boston and in Barcelona. The center connects students and professors from Emerson and Blanquerna through initiatives related to public diplomacy, international marketing, digital media, sports communication, public relations, and political communication, among other areas of common interest.