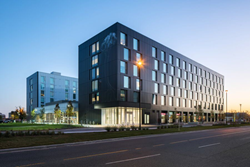 You'll only need to leave Quad when going to class.
TORONTO (PRWEB) October 21, 2019
Today Quad, a student housing community, announced that they are now receiving applications for 2020-2021 academic year. Quad is a student housing community, designed to allow students live their day-today life without having to leave the campus. It is conveniently located on the southern side of York University Keele Campus.
At Quad students can easily access their rooms from wherever they are in the entire campus. Each unit has a fully furnished kitchen, high-speed internet and gas. Residents enjoy adequate parking space, large shopping areas, restaurants and entertainment.
This student housing community was developed to provide students living at apartments near York University an opportunity to enjoy state-of-the-art rooms, restaurants, entertainment and other facilities within campus. Students can walk to anywhere on York campus within minutes. Quad offers fully amenitized living with fully furnished units, wireless internet, a gym, lounge areas and much more privacy than you would expect in any student housing around York University. The housing facility has 17 commercial businesses which includes food vendors, shops, barbers, dentists among others. You'll only need to leave Quad when going to class. https://quadatyork.ca