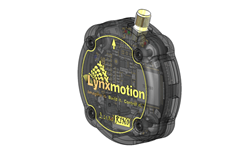 After analysing our community's needs, we saw everything we wanted was already included in the Quadrino from FlyingEinstein and a new partnership will give more support to the MultiWii community and bring our UAV platforms to the next level
Mirabel, Quebec (PRWEB) October 07, 2014
RobotShop announced today the acquisition of the technology behind Flying Einstein LLC, a manufacturer based in Florida that designs and produces flight controllers for UAVs and drones.
RobotShop recently entered the drone market in december 2013 by acquiring DiaLFonZo-Copter, a recognized leader in the design and production of multi-rotor UAVs, and thus launched the Lynxmotion UAV division. The popular Hunter VTail and other platforms from Lynxmotion are presently sold in kit form with optionally a MultiWii/Arduino-compatible flight controller.
"Since our arrival in the drone market ten months ago, our UAV team led by Eric Nantel (a.k.a. DiaLFonZo) quickly observed the need for an easy to use, plug-and-play flight controller supporting all MultiWii features." indicated Mario Tremblay, CEO of RobotShop. "After analysing our community's needs, we saw everything we wanted was already included in the Quadrino from Flying Einstein and a new partnership will give more support to the MultiWii community and bring our UAV platforms to the next level. Working with Colin Mackenzie has been a great experience because he shares our vision about what we want to achieve in the market. The roadmap before us is very exciting."
The Quadrino is based on the MultiWii open-source project. It was initially started by Alexandre Dubus (a.k.a. alexinparis). He brought together an Arduino electronics prototyping board and sensors from a Nintendo Wii controller and developed the software and flight control algorithms to keep a multirotor copter stable in the air. The hacker / maker community quickly caught on and many people were reproducing Alex's electronics using Arduinos, sensor boards and PCB adapters. Many of the Wii controllers used were cheap knock offs or made with different sensors, and people were having mixed results.
FlyingEinstein solved this problem in the spring of 2011 by bringing all the electronics together on one board called Quadrino that was both reliable and required no soldering.
"When Mario and Eric contacted me I was in the midst of redesigning the entire controller from the ground up." says Colin Mackenzie, CEO of FlyingEinstein . "I've been a customer of RobotShop for years. I also shared Lynxmotion's enthusiasm for robotics and knew the company from its roots, and I often recommended Eric's (DiaLFonZo) frames. Suffice to say I was very excited to work together then and the last few months has been a great experience in designing the Quadrino Nano together."
The new Quadrino Nano available for pre-order from Robotshop and Lynxmotion is 60% smaller than the previous version and has GPS built in. It uses an ATmega2560 chip, giving it more Flash, RAM and IO, has a Spektrum and SBUS port, and 3 serial ports. It has a foam cover for the barometer, supports an OLED display as a plugin module and includes the new Invensense MPU9150 embedded 9-axis IMU (gyroscopes, accelerometers, and magnetometers).
About RobotShop inc.
RobotShop is the world's leading robot store for personal and professional robot technology. It provides personal, domestic and professional robots, development platforms, kits, and specialized robotic parts. RobotShop is also an important source for robotics education and research.
For more information on RobotShop, please visit http://www.robotshop.com
About Flying Einstein LLC
Flying Einstein has been providing next-level technology in flight controllers to multi-rotor enthusiasts for over 2 years and has established a reputation for quality products and superior warranty, after-sale support and service. They collaborate on the feature-rich open-source MultiWii project as MultiWii continues to push the boundaries of multi-rotors, sensors, FPV and other gear.
For more information on Flying Einstein, please visit http://www.flyingeinstein.com
About Lynxmotion
Lynxmotion is one of the oldest manufacturers of robotic kits, including robot arms, biped walking robots, quadrupeds, hexapods, UAVs, drones and more. The selection of products and guides are important tools for teaching and learning many different complex aspects in robotics.
For more information on Lynxmotion, please visit http://www.lynxmotion.com