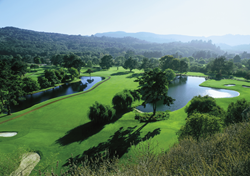 'We are proud to have played a role in the remarkable history and tradition of golf in this very special part of the golf world,' said Sarah Cruse, General Manager of Quail Lodge Golf Club.
Carmel, Calif. (PRWEB) June 25, 2014
Late in the summer of 1964, Carmel Valley Golf and Country Club opened for play. It was the first golf course built in the valley, just minutes from its famous neighbors on the Monterey Peninsula. But in no time, Carmel Valley Golf & Country Club became a "must play" for golfers visiting the golf-rich area, and the club became the centerpiece of a community that grew up all around it.
Renamed in 1988 as the Quail Lodge Golf Club, the iconic course celebrates its 50th anniversary by paying tribute to its rich golf legacy with a host of activities, while looking forward to the next 50 years as the valley's "original golf experience."
"We are proud to have played a role in the remarkable history and tradition of golf in this very special part of the golf world," said Sarah Cruse, General Manager of Quail Lodge Golf Club. "We have hosted championship golf tournaments for men and women, professionals and amateurs alike. And as stewards of a magnificent golf course, we look forward to preserving its legacy as we begin our next 50 years of golf at Quail Lodge Golf Club."
Quail Lodge Golf Club's 50th anniversary events begin with a media day on June 25, exactly half a century after the first "press preview" of the Robert Muir Graves-designed course. Other anniversary events include the unveiling of a historic photo and memorabilia display in August, and a December celebration of the christening of the original golf clubhouse. Also, a book on the first club's 50 years —"The Golf Legend of Quail Lodge," written by Carmel author Gary Koeppel—is being released this summer.
When Quail Lodge Golf Club opened in 1964, it reinvented the image of golf in a region that was world-renown for its golf courses, as well as for coastal summer fog and professional tournaments played in the rain. Founder Edgar Haber wanted a course that played along the sun-drenched valley floor, out of range of the lingering marine layer, and would have a traditional sand base for quick drainage. Built on the original 240 acres of farmland that also served as home to thousands of native quail, the strategic layout Graves designed immediately lured legends and locals alike with its warm climate and year-round playability. And once Quail Lodge was added in 1967, the greatest golfers in the world had a place in the valley to eat, sleep, and compete.
Among the first to embrace Carmel Valley Golf & Country Club was Arnold Palmer, who stayed at Quail Lodge and used the golf course and practice facility while on the Peninsula for the Bing Crosby Pro-Am in 1968 and 1969. Among the many others who followed Palmer's lead were golf legends Gary Player, Doug Sanders, and David Graham, who all stayed at Quail Lodge during the 1972 U.S. Open Championship, and were shuttled to Pebble Beach on a private helicopter secured by Haber. The "helicopter service" also was offered during the 1982 U.S. Open.
Indeed, professional golf was the impetus for the club's name change. During the 1980s, Carmel Valley Golf & Country Club hosted the annual Spalding Invitational, a non-tour event that drew high-caliber fields. However, the TV broadcasters kept referring to the course as "the Golf Club at Quail Lodge." In 1988, Haber chose to switch rather than fight and leveraged the "Quail" connection in officially renaming the property. In 1997, the club and resort were sold to The Hong Kong and Shanghai Hotels, Limited and Haber's long-time friend, Hong Kong businessman, Sir Michael Kadoorie.
In its first 50 years, Quail Lodge Golf Club has been the site of many memorable moments, among them:

The golf course was less than a year old when it was selected to host the sectional qualifying for the 1965 U.S. Open, its first serious test by premier-level players. Bob Moore of Salinas shot 70-74 for an even-par 144 to lead nine qualifiers.
The course has been home to the California State Women's Amateur Championship since 1987. It is where Monterey's Mina Harigae made national headlines, winning four straight State Am titles from 2001 to '04 before being old enough to drive (age 12-15), and where a 12-year-old Natalie Gulbis was DQ'd from the 1995 State Am for signing an incorrect scorecard.
Through the years, the practice facility has been staffed by a world-class collection of golf instructors, including Ben Doyle, Laird Small, Janet Coles, and Katherine Marren.
Bobby Clampett grew up at the course, rising to become two-time Collegiate Player of the Year, a PGA Tour champion, and a popular golf broadcaster. He took his first lessons from club pro, Lee Martin, and later became the prized pupil of legendary instructor, Ben Doyle. LPGA Tour champion Janet Coles also was a product of the club and student of Doyle.
Other special events at the club featured concerts by Tony Bennett, fundraisers with Clint Eastwood, as well as an estimated $50 million worth of luxury motorcars at "The Quail," part of the Monterey Car Week/Concours d'Elegance.
Winners of the Spalding Invitational at Quail Lodge Golf Club were: Jay Haas (1981), Peter Oosterhuis (1982, 1984), Johnny Miller (1983), Tim Norris (1986), Ken Green (1987), Lennie Clements (1988), and Bob Gilder (1989).
In 1975, the club was the site of the USGA Senior Amateur, won by William F. Colm, who defeated Stephen Stimac, 4 and 3.
With its first half-century complete, there's no reason to think the next 50 years won't be just as exciting.