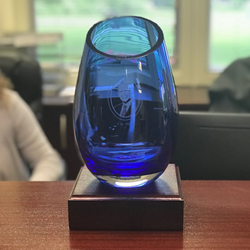 This award is a testament to that work and the team and relationships we've built along the way. We are incredibly humbled to receive this recognition.
ALLENTOWN, Pa. (PRWEB) May 21, 2019
Warren Weiss Agency, an independent risk management and insurance agency offering risk consulting, employee benefits programs, and auto, home, life and business insurance, today announced it is the winner of the prestigious F.W. Hirt Quality Agency Award from Erie Insurance.
The award, which was conferred May 7 at Erie's Allentown branch, is given by Erie on an annual basis to outstanding partner agencies within each branch of its 14-state service area. It recognizes commitment to exceptional service, performance and profitability, and is considered the top award an Erie partner agency can receive. Warren Weiss Agency is one of 153 partner agencies in their respective Erie branch.
In attendance and receiving the award on behalf of Warren Weiss Agency were Brian Benner, Principal and Certified Insurance Counselor; Leanna Knight, Vice President and Certified Insurance Counselor; Yahaira Cordova, Customer Service Agent; and Jeffrey Geiser, Voluntary Benefits Specialist.
"This is truly an honor," said Benner. "In the thirty years that I've been with the agency, we have always strived to offer top-class service and products to our clients. This award is a testament to that work and the team and relationships we've built along the way. We are incredibly humbled to receive this recognition."
The award is an addition to Warren Weiss Agency's growing list of recent Erie accolades, which also includes the Erie Silver Life Insurance Recognition Award and Benner's nomination to the ErieExperience Task Force.
Benner added, "Warren Weiss thanks you—our friends, family, neighbors and loyal clientele—for helping us reach this milestone. We owe all our success to you, and we look forward to continuing to serve you for many years to come."
About Warren Weiss Agency
Warren Weiss Agency develops comprehensive Risk Management plans and maintains multiple coverage types for clients including Auto Insurance, Home Insurance, Health Insurance, Life Insurance and many others. Over 70-plus years, the agency has served thousands of neighbors and businesses throughout the Lehigh Valley and Bucks-Mont regions of Pennsylvania, as well as New Jersey, many of whom remain clients today.
In May 1946, Warren Weiss Agency was founded from the kitchen of a farmhouse in rural Bucks County, Pennsylvania. Today, the agency continues to operate as a third-generation business and as a full-service Risk Management firm. The difference between being Risk Advisors and 'just another Insurance Agency' is a personal matter.
In 2005, a building fire nearly destroyed the agency. First-hand, Warren Weiss Agency experienced a terrible event, and witnessed how it disrupts lives and livelihoods. Of course, thanks to some careful planning, the agency overcame the odds. But its owners realized then that many families and businesses never recover from such a catastrophe. And so in an odd way, the fire that nearly destroyed the business became a fire within. Warren Weiss Agency emerged with a renewed sense of purpose—of why the work of risk management is important, and necessary.
About Erie Insurance
Erie Insurance started out as the vision of two partners, Henry Orth Hirt and Oliver Grover Crawford, to create an insurance company like no other, one that emphasized customer service above all else.
Founding partners Hirt and Crawford had a plan, which they wrote on a 10-cent tablet (today's equivalent of a business prospectus), but they needed money. It took 3 months and 20 days—about the length of one Erie winter—to raise the $31,000 they needed. But they succeeded, winning over 90 stockholders with their hand-written business plan, their tenacity and their true belief in what they were about to do.
On April 20, 1925, the Erie Insurance Exchange was born when one of its first policies was written—on Hirt's own Dodge touring car. The company's mantra became, "Above all in SERvIcE," with the letters E-R-I-E raised within the word "service." That mantra remains the company's tagline today, and is part and parcel to its journey from humble beginnings to FORTUNE® 500 company with over 5,000 employees and 5 million policies in force.
About the F.W. Hirt Quality Agency Award
Frank William "Bill" Hirt (1925-2007) was the son of Erie Insurance Exchange founder H.O. Hirt. He served as the Chairman and CEO of Erie Family Life Insurance Company, President and CEO of The Erie Insurance Group, and the chairman of the board of directors. His 41-year career inspired the naming of the F.W. Hirt Quality Agency Award.