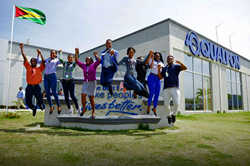 We continue to see steady growth in our Guyana operations because of our dedicated employees, long-term clients and capacity to support new business opportunities," said Mike Marrow, CEO of Qualfon.
HIGHLAND PARK, Mich. (PRWEB) June 09, 2020
Qualfon, a full-service marketing solutions and customer experience services provider, is seeing tremendous growth at its Guyana campus despite the global Coronavirus pandemic. For 15 years, Qualfon has been an established BPO provider in Guyana and is the most tenured and largest private employer in the country. From the beginning, Guyana has been a desirable outsourcing location for Qualfon's clients due to its native-English-speaking population, cultural familiarity with the U.S. and competitive services. Recently, Qualfon had been challenged from a staffing perspective and business was feeling the impact. As part of an on-going audit, Qualfon identified a noticeable degradation in the class fill and attrition rates in Guyana.
Through Qualfon's Six Sigma process improvement methodology, which also included a substantial job market analysis, Qualfon recognized the need to adjust its employee compensation structure to stay competitive in the marketplace. The company conducted a thorough and updated skill-set evaluation of each role in the site, aligning each position with the right performance incentives to benefit its employees and clients. This strategic alignment has led to higher employee engagement and better recruiting at both the agent and supervisor level, leading to lower attrition and higher performance across the site. The loyalty and dedication of the Guyanese employees have also resulted in higher tenure numbers: supervisors and quality assurance personnel have an average tenure greater than four years.
The site also made critical leadership changes, including the additions of Summer Dennis, Managing Director – LATAM, and, most recently, Ryan Carey, VP of Operations. Ryan, the newest member of the leadership team for Guyana, comes to Qualfon with more than a decade of nearshore experience in the BPO industry. His experience will prove instrumental in leading the further growth of the site.
"I'm excited to be part of the Qualfon family," said Carey. "Our recent innovations in Guyana have allowed us to remain the outsourcer and employer of choice here. I'm committed to helping continue a path of growth and development for all our clients, employees and people."
Due to the employee compensation adjustments and executive leadership changes, Qualfon has seen contact center operations expand by 27% in Guyana. Recent growth comes from increased volume from existing, long-term clients, combined with new business brought on by the need to support essential business during the recent pandemic. The above efforts and investment have advanced Qualfon's ability to provide high-quality services in Guyana. Qualfon has also seen significant improvements in client Key Performance Indicators (KPIs) – most notably, 100% KPI achievement for one of its largest clients. In addition, it improved its overall vendor rankings, going from 40 to 17, and is now a top-performing vendor for another large client.
On the heels of the compensation changes and improved performance results came the COVID-19 pandemic that impacted outsourcing locations worldwide. Qualfon's Guyana campus was prepared and positioned to play a major role in business continuity solutions for many of its large clients. With heavy COVID-related restrictions put into place in the Philippines, Guyana quickly became a desirable outsourcing location, as it was less impacted by the COVID-19 crisis early on. Many client programs relied heavily on the Philippines for support services, and Qualfon was able to ease the impact to client business by shifting volumes to Guyana.
Later, as the pandemic concerns deepened in Guyana, a majority of businesses had to temporarily stop operations following the implementation of enhanced community quarantine (ECQ) issued by the central government; Qualfon's COVID-19 Global Task Force was already taking extraordinary measures to protect the health and well-being of their employees by ensuring social distancing at all locations, enhanced cleaning services and work-at-home arrangements. The Guyanese government recognized the policies established by Qualfon to keep its employees safe were setting a benchmark that other businesses should follow.
Based on Qualfon's long-standing commitment to good partnership and the COVID-19 safety measures put in place, the Government and the Private Sector Commission of Guyana asked Qualfon to support the official Guyana COVID-19 Hotline, demonstrating the trust from both the government and the community. Based on the proactive measures Qualfon was taking, the Guyanese government also authorized the sector to remain open as part of the essential services designation, thereby allowing Qualfon to maintain support of its employees, their families and its clients during the pandemic.
"We continue to see steady growth in our Guyana operations because of our dedicated employees, long-term clients and capacity to support new business opportunities," said Mike Marrow, CEO of Qualfon. "We recognize the significant level of cultural familiarity with the U.S., making it easier to connect with customers during contact center interactions. The wealth of talent provides a stable foundation for us to create more jobs and make each person's life better."
If you are looking for the right outsourcing partner to provide experienced sales, customer service and/or high-end customer care agents, we have immediate capacity with competitive pricing in our Guyana facility. Contact Us Here
About Qualfon: Qualfon is a full-service marketing solutions and contact center service provider offering full customer lifecycle management: lead generation, end-to-end integrated marketing, multichannel customer engagement and fulfillment. With experienced BPO leadership and a strong track record of business growth dating back to our founding in 1995, Qualfon helps companies reduce costs and deliver superior customer experiences. At peak, we have approximately 16,000 employees serving international brands across many industries, and our intelligent outsourcing locations span the United States, the Philippines, Guyana, Mexico and Costa Rica. Qualfon's mission to "be the best and make each person's life better" means we invest in our people and, in return, they take better care of you and your customers. Qualfon's employee retention regularly exceeds the industry average, which creates a person-driven value chain: our employees stay longer, providing a higher quality service at a lower price. In 2019, Qualfon Guyana was awarded the Caribbean BPO Investor and Innovator of the Year awards at the Outsource to the Caribbean. Both of these awards distinguish organizations for remarkable achievements that foster the expansion and investments in the Caribbean regions. Qualfon was specifically recognized for its investments in the South American country of Guyana and for its continuing commitment to the Guyanese community.