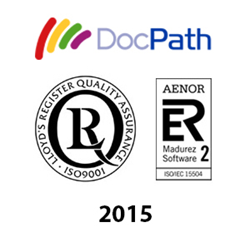 Through the renewal, DocPath demonstrates that it continues to optimize internal management and processes, in order provide their clients with high-quality products and services.
Madrid, Spain (PRWEB) April 22, 2015
This month, DocPath, a leading document management software provider, has renewed both of its AENOR-certified Quality seals. As such, the certificates endorse the company´s high commitment with pursuing continuous improvements throughout its internal processes and corporate management. The two certificates are ISO 9001:2008 and ISO/IEC 15504.
By implementing the advanced Quality Management System as specified by ISO 9001:2008, DocPath demonstrates its capacity to develop software within consistent procedures and offer document management software and services that comply with client requirements. The ISO 9001:2008 certificate is accredited by leading international certification organizations, which significantly strengthens DocPath´s market position, as the renewed seal increases general confidence among DocPath Partners and Clients.
Being a leading manufacturer of document management software, DocPath considers high quality software to be one of its key objectives. For this reason, in 2013, the company decided to apply the ISO/IEC 15504 process model for the optimization of its software life cycle. DocPath obtained the corresponding certificate the same year, which clearly demonstrates the level of efficiency and quality of the company´s software development processes. By renewing its ISO/IEC 15504 quality seal, also known as SPICE (Software Process Improvement Capability Determination), DocPath shows that it continues to be able to efficiently cover multiple types of software projects following coherent and consistent guidelines, in order to guarantee the quality of the final product.
The renewal of both quality seals underlines DocPath´s corporate strategy, based on continuous improvements of its productivity levels, resource management and overall process effectiveness, to guarantee optimal client satisfaction with DocPath document management solutions.
About AENOR
AENOR, the Spanish Association for Normalization and Certification, is a private, nonprofit organization founded in 1986. Its activities are aimed at improving the quality and market position of different types of enterprises, as well as their products and services. AENOR certificates are very highly valued, as the organization is one of the 10 leading certification institutes in the world.
For more information, visit: aenor.es
About LLoyd´s
Lloyd´s, or Lloyd´s Register Group, is currently one of the major audit organizations in the world. The company inspects corporate processes and products under internationally recognized standards and models, which includes AENOR´s Quality standards.
For more information, visit: irqa.es
About DocPath
DocPath is a leading document technology software manufacturer. Created in 1992, its solutions are found in companies all over the world. Among its international clients, are prestigious banks and first class corporations, which are aided by DocPath solutions by simplifying the complicated and critical task involving the design and the distribution of documents. DocPath maintains a strong commitment to R&D&i, an area that receives a good amount of its revenue and which is one of the company´s key success factors.
For more information, visit http://www.docpath.com
DocPath is a registered trademark of DocPath Corp. All rights reserved. Other trademarks may be the property of their respective owners.