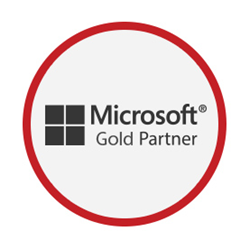 KENT, Ohio (PRWEB) February 18, 2020
QualityIP, the IT Services leader in Northeast Ohio and Southwest Florida, has recently achieved Microsoft Gold Partner status. The Microsoft Gold Competency is Microsoft's most prestigious partnership program, which signifies the highest level of proficiency and expertise with Microsoft technology. To ensure that their customers receive the proficiency they deserve from their IT provider, QualityIP has become experts in Microsoft platforms such as Office 365, Azure, and Windows Server Support. According to Microsoft, "Gold Competency is awarded to companies that have demonstrated a very high level of expertise and a proven and specialized skill set in a particular technology or service area."
As a Microsoft Gold Partner, QualityIP can support a variety of Microsoft platforms, applications, and Windows-based systems. They offer Managed Cloud Services, which include Microsoft Office 365 and Microsoft Azure. By offering Office 365 technology, customers are exposed to a wide range of collaboration tools that allow them to work anywhere, anytime, and can help simplify communication between colleagues. QualityIP assesses your company's current infrastructure to ensure a successful transition to cloud for their customers. Microsoft Azure is another cloud service offered that works as an alternative solution to a business having to purchase more hardware and provides companies with the on-demand computing capacity they need.
QualityIP's partnership with Microsoft allows them to expand on their Managed Cloud offerings and provide more value to their customers by supplying a greater variety of products and support. The Microsoft Gold Partnership gives QualityIP customers the ability to build a robust infrastructure by applying advanced Microsoft technology solutions.
QualityIP is a leading IT Services provider serving small and mid-sized organizations throughout Northeast Ohio and Southwest Florida. With more than 70 employees and a fleet of 15 Tech Trucks, QualityIP offers fast support, expert advice, and robust solutions. QualityIP Knows IT.