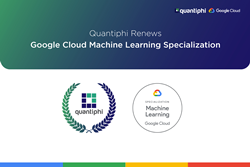 "Artificial intelligence and machine learning have become essential building blocks of digital transformation and Quantiphi is committed to combining our industry expertise with the power of Google Cloud to help clients accelerate their digital transformation" - Asif Hasan, Co-founder, Quantiphi
MARLBOROUGH, Mass. (PRWEB) September 01, 2020
Quantiphi, an applied artificial intelligence and data science software and services company, announced today that it has successfully renewed its specialization status in Machine Learning for the third time as part of Google Cloud's Partner Advantage Program. By renewing the Partner Specialization, Quantiphi has proven their expertise and success in building customer solutions in the Machine Learning field using Google Cloud technology.
Specializations in the Google Cloud Partner Advantage Program are designed to provide Google Cloud customers with qualified partners that have demonstrated technical proficiency and proven success in specialized solution and service areas.
Partners achieving this specialization have demonstrated success with data exploration, preprocessing, model training, model evaluation, model deployment, online prediction, and Google Cloud pre-trained Machine Learning APIs.
"Artificial intelligence and machine learning have become essential building blocks of digital transformation, and Google Cloud has built an impressive set of tools to democratize access to these technologies," said Asif Hasan, Co-founder, Quantiphi. "Recent business conditions have accelerated digital adoption trends in unprecedented ways and Quantiphi is committed to combining our industry expertise with the power of Google Cloud to help clients accelerate their digital transformation programs."
As a Premier Google Cloud Services Partner and one of the first Machine Learning Specialization launch partners in 2017, Quantiphi has previously earned Google Cloud's Machine Learning Partner of the Year award twice in a row for 2017 and 2018. Quantiphi was recently awarded the Google Cloud Social Impact Partner of the year - 2019 for leveraging AI for social good.
In the year 2020 alone, Quantiphi successfully completed over 70 machine learning projects for customers across Industries, including Retail, Healthcare, Insurance, Financial Services, Education and Public Sector. Quantiphi has delivered excellent customer experience by leveraging Google Cloud to help create competitive and compliant solutions in rapidly changing global markets with powerful, scalable technology. Developing end-to-end machine learning platforms with AI building blocks, templates and services to build, train, serve, and manage models on Google Cloud.
About Quantiphi
Quantiphi is an award-winning applied AI and data science software and services company driven by the desire to solve transformational problems at the heart of business. Quantiphi solves the toughest and complex business problems by combining deep industry experience, disciplined cloud and data engineering practices, and cutting-edge artificial intelligence research to achieve quantifiable business impact at unprecedented speed. We are passionate about our customers and obsessed with problem-solving to make products smarter, customer experiences frictionless, processes autonomous and businesses safer by detecting risks, threats and anomalies. For more on Quantiphi's capabilities, visit https://www.quantiphi.com/.