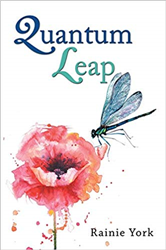 Paying attention to our thoughts and belief systems can lead us to amazing discoveries.
ATLANTA (PRWEB) March 23, 2020
Albert Einstein believed that everything is energy. That belief keeps company with today's quantum scientists in that energy is everywhere and is everything, and that people can consciously access and use it.
In her new young adult novel, "Quantum Leap," Rainie York shares a thrilling coming-of-age story about a teenage girl's journey into the world of energy, as she learns to gain true control over her life.
"As energy, words and thoughts are things," York said. "As such, they have enormous power."
In York's new book, 15-year-old Rebecca Jean uses the power of story-telling to escape from her life and exercise a sense of control. When the stories she writes begin to come true, Rebecca wrestles with guilt and glee, and the consequences that begin to turn her life upside-down.
Tackling love, high school drama, friends, family and the testing of core beliefs, "Quantum Leap" introduces young readers to the understanding of applied ancient universal laws and quantum science relative to the power of the mind.
"We get to choose what we believe," York said. "Paying attention to our thoughts and belief systems can lead us to amazing discoveries."
"Quantum Leap"
By Rainie York
ISBN: 978-1-7960-5900-7
Available at Xlibris, Amazon and Barnes & Noble
About the author
Rainie York was born and raised in Mendocino County in Northern California. She holds a BS from the University of San Francisco. Rainie is also a Reiki Master, and Certified Life Coach. Rainie is fascinated by quantum science and ancient belief systems, especially where they overlap in relation to the power of mind. She is passionate about personal empowerment for women, writing, and energy healing. Rainie lives north of Atlanta with her husband and their three cats. To learn more about the author and her book, visit: https://rainieyorkauthor.com/ or https://www.facebook.com/rainieyorkauthor.
###
Review Copies & Interview Requests:
LAVIDGE – Indianapolis
Lindsey Gobel
317.435.2116
lgobel@lavidge.com