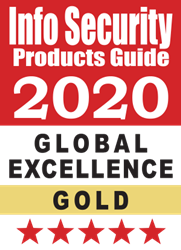 BETHESDA, Md. (PRWEB) February 26, 2020
Quantum Xchange announced today that Info Security Products Guide, the industry's leading information security research and advisory guide, has named Phio Trusted Xchange (TX), a winner in the 16th Annual 2020 Info Security PG's Global Excellence Awards® in the category of Best New Product-Service Security Hybrid. These prestigious global awards recognize cybersecurity and information technology vendors with advanced, ground-breaking products, solutions, and services that are helping set the bar higher for others in all areas of security and technologies.
Launched in September 2019, Phio TX is the only complete, quantum-safe key management systems available on the market for true crypto agility and quantum readiness. The appliance features patent-pending out-of-band symmetric key delivery capable of making existing keys quantum safe, while supporting the delivery of quantum keys in any format. With Phio TX, Quantum Random Number Generator (QRNG) sources, Post Quantum Cryptographic (PQC) algorithms, or physics-based Quantum Key Distribution (QKD) for maximum security can be deployed using any network topology, across any distance, between multiple transmission points. Additionally, Phio TX makes QKD commercially viable by overcoming previous distance and delivery limitations experienced by all other QKD offerings.
More than 35 judges from around the world representing a wide spectrum of industry experts participated in the judging process. This is the second consecutive year Quantum Xchange has been recognized as a Gold winner by Info Security Products Guide. The company was named a 2019 Gold winner in the category of Startup of the Year (Founded in 2018), and its Phio Quantum Key (QK), won Silver for Innovation in Next Generation Security.
About Info Security PG's Global Excellence Awards
Info Security Products Guide sponsors the Global Excellence Awards and plays a vital role in keeping end-users informed of the choices they can make when it comes to protecting their digital resources and assets. It is written expressly for those who are adamant on staying informed of security threats and the preventive measure they can take. You will discover a wealth of information in this guide including tomorrow's technology today, best deployment scenarios, people and technologies shaping cyber security and industry predictions & directions that facilitate in making the most pertinent security decisions.
About Quantum Xchange
Quantum Xchange gives commercial enterprises and government agencies the ultimate solution for secure communications. Its complete key management system, Phio Trusted Xchange (TX), is uniquely capable of making existing encryption keys quantum safe and supports both post-quantum crypto (PQC) and Quantum Key Distribution (QKD) for true crypto agility and quantum readiness. As the operator of the first quantum fiber network in the U.S., Quantum Xchange also holds the unique distinction of being the only company in the world to make QKD commercially viable by solving the distance and delivery limitations inherent with all other offerings. With a dynamic security infrastructure in place, organizations can enhance their existing encryption environment, select the level of protection needed based on their risk tolerance, and seamlessly scale to QKD at any time, across any distance, between multiple transmission points. To learn more about being quantum safe today and quantum ready for tomorrow's threats, visit QuantumXC.com or follow us on Twitter @Quantum_Xchange.
###