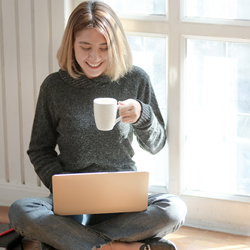 This, too, shall pass, and our on-line service will continue when it does - as a way to beat the L.A. traffic.
BEVERLY HILLS, Calif. (PRWEB) April 08, 2020
The COVID-19/ coronavirus pandemic has posed challenges for business large and small. At the Beverly Hills Lingual Institute, the choice was simple: lock the doors for the first time in a quarter century and wait for better times, or keep students engaged and learning - and teachers and staff employed - through interactive, virtual classrooms.
"We are thrilled to announce that all our language courses are now available on-line," said Vera Martinovic, Director of the Institute. "With 36 languages to choose from and an experienced roster of native speakers, we're offering students the opportunity to use this time to learn that language they've always wanted to speak, and to continue practicing with their peers."
While moving hundreds of courses on-line has not been without its snags, Martinovic affirms that the response of the student body has been overwhelmingly positive. Students write in on a daily basis to express their gratitude for the respite that their on-line classes have provided from these difficult times.
"By and large, both students and teachers agree that we have retained the quality of instruction and interactivity for which we have strived over the last 24 years," Martinovic said.
The next term at BHLI begins on May 2nd. At this point, the office believes that it will commence on-line, with normal service resumed once that is termed safe for students, teachers and staff.
On-line classes, however, will remain as an option.
"We've already had a number of requests for our new on-line service to continue, when things go back to normal," said Martinovic. "Many of our students see this as a way to beat the L.A. traffic."
###
Founded in 1996, the Beverly Hills Lingual Institute has grown to serve thousands of language students, from beginners, to intermediate and advanced learners. Billed as Southern California's Premier Language Center, BHLI offers daytime and evening language classes for adults and children, in more than 35 languages, from the Beginner through Advanced levels.