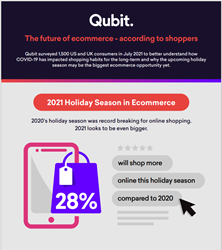 'Many consumers have grown accustomed to shopping online. This is extremely important for brands to be aware of as they begin planning for the 2021 holiday season, which may outpace 2020's gains online considerably.' -- Tracey Ryan O'Connor, CRO, Qubit
LONDON and NEW YORK (PRWEB) August 11, 2021
Qubit, a leader in AI-powered personalization, today announced findings from a new survey of 1,500 U.S. and U.K. consumers that highlight the remarkable trends in changing shopper behavior as a result of the effects of a lengthy global pandemic. According to Qubit's survey, conducted in July 2021, the vast majority (85.9%) of consumers plan to continue shopping the same or more online, even though most stores are open globally. Furthermore, the survey reveals that the 2021 holiday season could be the biggest yet for online shopping.
The pandemic fueled a 25.7% surge in online retail globally in 2020, with sales estimated at more than $4 trillion (source: eMarketer). Qubit's new survey echoes these findings and predicts more ecommerce growth ahead -- not only are 54.5% of U.S. and U.K. consumers planning to shop online as much as they did during the last peak period, but 27.7% (32.4% in the U.S.) of consumers expect to shop more online than during last year's holidays. However, customer experience challenges remain as 87.6% of shoppers say they are faced with an overwhelming amount of product choices some, always or most of the time.
"While 2020 was record-breaking for online shopping, we are seeing that global circumstances have espoused persistent changes in shopper behavior," said Tracey Ryan O'Connor, Chief Revenue Officer at Qubit. "Many consumers have grown accustomed to shopping online. This is extremely important for brands to be aware of as they begin planning for the 2021 holiday season, which may outpace 2020's gains online considerably. To fully leverage the growth in ecommerce, retailers must factor in how consumers shop to meet customer expectations on the experiences they deliver, ensuring they're aligned with current shopping trends."
Additional survey findings from Qubit include:

70.7% of U.S. and U.K. shoppers said they have increased their online shopping frequency as compared to before the pandemic.
When asked whether respondents were planning to continue to shop online in specific categories, the standouts were: Fashion (64.1%) and Consumer Electronics (63%). Nearly half of respondents also plan to continue shopping online for Groceries, Home & Garden, and Beauty (49.3%, 48.9%, and 47%, respectively).
8 in 10 shoppers reported that loyalty to their top two to three brands either stayed the same or increased during the COVID-19 pandemic, yet 31.4% of shoppers said they now shop with more brands overall than before the pandemic.
54.9% of consumers said that they typically need more convincing to make a purchase online than they do when they are in-store.
"To deliver a better customer journey online, brands must optimize product discovery. They should also enable better mobile navigation and purchasing options across the site, as well as provide more unique and personalized shopping experiences -- not just for the most loyal customers but also for first time visitors," advised O'Connor.
Infographic with these and other survey metrics is available for download here.
About Qubit
Qubit's mission is to drive customer loyalty and lifetime value through AI and deep-learning powered personalization. Industry leaders in luxury, fashion, beauty, travel and egaming partner with Qubit to transform the way they understand and influence their visitors. Qubit customers generated $1.6 billion in incremental revenue in 2020, using the platform to grow 2.5x faster than the average retailer. Qubit personalizes 9.5 million experiences every hour for their customers, some of which include Estee Lauder Group, Kurt Geiger, Shiseido, Tailored Brands, Radisson Hotel Group and Fanduel. Headquartered in London, the company has offices across Europe and the U.S. Qubit's investors include Goldman Sachs, Sapphire Ventures, Accel Partners, Salesforce Ventures and Balderton Capital. For more information, please visit: http://www.qubit.com.