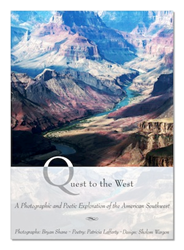 We uniquely portray the splendor of one of the most beautiful landscapes in the world through images and verse, providing a distinctive means to appreciate and preserve its beauty.
Ottawa, Canada (PRWEB) December 11, 2014
The first in a new series of ebooks that will highlight the beauty of the American west, Bryan Shane and Patricia Lafferty's 'Quest to the West' documents their journey in 2012 from their home in Canada to the awe-inspiring panoramic landscapes of the southwestern United States. Shane and Lafferty combine their creative talents—photography and writing—to share their unique perspective of some of the most breathtaking places on earth.
Divided into chapters—each one profiling a different national park—'Quest to the West' offers stunning photographs accompanied by the cadence of short, thoughtful, poetic verses. The journey begins in Sault Sainte Marie in northern Ontario and continues on through South Dakota's Badlands, Yellowstone and Grand Tetons national parks in Wyoming, Utah's Bryce, Arches and Canyonlands national parks and finally, the jaw-dropping and seemingly infinite reach of the Grand Canyon's south rim in Arizona.
Self-described retirees Shane and Lafferty embarked on their 4000+ mile adventure with the specific intention to creatively chronicle—and then share—their experiences. "Patricia and I have always strived to be the best we could be in everything we have undertaken," says Shane. "Our creativity was always the means for the successful delivery of services in our work and in our own self-improvement and self-realization. On this journey, we express our creativity in a completely different manner—by harnessing the wonder of the American southwest and expressing its beauty through the eyes of newcomers using photographic images and poetry."
Lafferty's verses support the power and glory of Shane's photos with her own thought-provoking imagery. Whether it's the hoodoos of the Badlands, the natural sandstone arches in Utah, the dramatic skies over Old Faithful in Yellowstone or the vastness of the Grand Canyon, the pages of 'Quest for the West' are filled with sweeping views of deep canyon rivers, waterfalls, valleys, and endless skies—all painted with mesmerizing colors from Mother Nature's secret palette and bathed in the changing shift and mystery of shadows and light.
"We used this trip as an example of how to combine the excitement of travelling with a creative and artistic objective," says Shane. "We uniquely portray the splendor of one of the most beautiful landscapes in the world through images and verse, providing a distinctive means to appreciate and preserve its beauty."
'Quest for the West' is published in eBook format by eBookIt.com and is now available at popular online retailers including Amazon.com, Kobo and Apple's iBookstore.
Review copies of 'Quest to the West are available to media contacts upon request. Authors Bryan Shane and Patricia Lafferty are available for interviews.
Contact:
Bryan Shane and Patricia Lafferty
bryan.shane(at)sympatico(dot)ca
plafferty(at)sympatico(dot)ca
(613) 277-8912
About Bryan Shane and Patricia Lafferty
As management consultants (http://www.bpcgallery.com) for the past 25 years, Bryan and Patricia have worked with their clients in the public, private and not for profit sectors in a highly interactive manner to develop and implement tailored solutions to improve the operational and strategic performance of their public and private organizations in the areas of business planning, performance measurement, governance and in the effective use of Information Technology. They have published extensively in order to share best practices in these service areas.
A photographer for the last two decades, Bryan has captured wondrous images all over the world—of people, city, land, and seascapes and animals in their natural environments. Using a 35mm digital SLR camera, Bryan spends hours in the field photographing the natural world. You can see more of his work at http://www.bryanshane.com. He also has prints for sale at http://www.fineartamerica.com and http://www.redbubble.ca.
About eBookIt.com
Since 2010, eBookIt.com (based in Sudbury, Massachusetts) has helped thousands of authors and publishers get their books converted to ebook format, and distributed to all the major ebook retailers, including Amazon.com, Barnesandnoble.com, Apple iBookstore, Kobo, Sony Readerstore, Ingram Digital, and Google eBookstore.
###