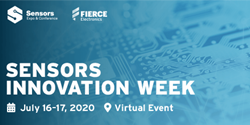 FRAMINGHAM, Mass (PRWEB) July 08, 2020
Sensors Expo & Conference, produced by Questex, announced today Sensors Innovation Week, a complimentary digital event series taking place July 16-17. Through a series of live video roundtables, tech talks, fireside chats, and keynotes featuring subject matter experts from top OEM companies and suppliers, attendees from all over the globe will be able to access top notch industry panels and education. In partnership with Fierce Electronics, the industry leading editorial team will be augmenting these digital events with a variety of featured content, special reports and breaking news across the site all week.
Quick Links:

"We're excited to bring Sensors Innovation Week to attendees all over the world through these online events. We've brought together a top-notch speaker lineup featuring visionaries from Yole Développement, Valentium, Jetperch, Millibat, New York Power Authority, CNH Industrial, Halliburton, The Aerospace Corp. and more. This is a first of its kind event that is a must attend for engineers who are looking to get a competitive edge on all of the latest trends and technology applications that are impacting our industry and the world today," noted Karen Field, Head of Content for Fierce Electronics and Sensors Expo & Conference, at Questex.
With topics ranging from "How Innovative Sensing Technology is Helping to Combat a Pandemic," to "You've Got the Power, Use it Wisely to Create Energy-Efficient Sensor Designs," to "IoT & Wireless: Hey Network, It's Me, Sensor!," and "AI and Machine Learning: Making Sense out of Sensor Data," attendees will access one-of-a-kind content addressing the latest sensing challenges and innovative design approaches. In addition to these sessions, sponsors will also be highlighting their latest offerings and solutions in technical and interactive Tech Talk sessions. Sponsors to date include ams AG, Bluetooth, CommScope, Infineon, Omron, and STMicroelectronics. If you are interested in speaking or sponsoring, click here for more information.
"The Bluetooth SIG is excited to continue our partnership with Sensors Expo & Conference by participating in the first Sensors Innovation Week. The virtual event gives our members the ability to share the latest advancements in Bluetooth technology with a global audience of engineers. It's an opportunity we wanted to capitalize on," says Jim Katsandres, Director, Developer Relations of the Bluetooth SIG.
Registration is free for all attendees, and speakers and sponsors will continue to be added in the coming weeks. Stay up-to-date on the latest announcements with the hashtag #SensorsInnovationWeek. Additional virtual events are planned throughout the year, including Embedded Innovation Week on September 28-October 1, MedTech Innovation Week on October 19-22, and AutonomousTech Innovation Week on December 14-17. To learn more, visit here.
About Sensors Expo & Conference and Fierce Electronics
Sensors Expo & Conference, produced and managed by Questex, is one of the world's largest and most important gatherings of engineers and scientists involved in the development and deployment of sensor systems. For more information, visit http://www.sensorsexpo.com. Sensors Expo & Conference is supported by the event's official publication, Fierce Electronics, the primary news and information source for design engineers and engineering management, covering the business and technology aspects related to the entire electronics industry; focusing on sensors, embedded systems, power management, analog, components, and IoT. For more information, visit http://www.fierceelectronics.com.
About Questex
Questex helps people live better and longer. Questex brings people together in the markets that help people live better: travel, hospitality and wellness; the industries that help people live longer: life science and healthcare; and the technologies that enable and fuel these new experiences. We live in the experience economy – connecting our ecosystem through live events, surrounded by data insights and digital communities. We deliver experience and real results. It happens here. For more information, visit http://www.questex.com.