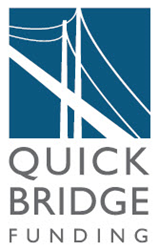 We focus specifically on user experience and efficiency. We're customer focused, and that's a real driver to our growth," said Cofounder and President, Ben Gold
Orange, Calif. (PRWEB) September 23, 2014
Quick Bridge Funding, a privately-held financial services firm specializing in short-term alternative lending for small to medium-sized businesses, is pleased to announce it ranked No. 1 on the Orange County Business Journal's September 22, 2014 Fastest Growing Private Midsize Companies List.
Founded in 2011, Quick Bridge Funding achieved the No. 1 rank based on a 2,236 percent increase from $1.5 million to $34.7 million revenue. The Business Journal took the percentage increase in revenue for the 12 months through June 30, 2014 compared with the same period two years earlier. To be considered for the list, companies needed to be privately held, based in Orange County and have annual sales of at least $300,000 for the 12 months through June 30, 2012. The list of 174 fastest growing companies was divided by company size: small - under $10 million, midsize - $10 million to $99 million; larger - $100 million and above. The midsize category had 73 entries that grew on average 74.1 percent.
Quick Bridge Funding's cofounders David Gilbert and Brij Patel are primary equity owners with cofounders Ben Gold serving as president and Jason Osiecki as vice president of sales. The founders attribute Quick Bridge's strong portfolio performance and growth in loan originations to the mutually beneficial relationships it has established with its third party broker partners, as well as its dedicated team of quality leaders and team members. The following individuals have been with Quick Bridge since its beginning: Rahul Lavingia, Lead Credit Analyst; Albert Lopez, IT Support; Pooja Nene, Account Manager; and Elizabeth Viramontes, Controller. Leadership team members include: Jim Grant, Vice President of Portfolio Management; Hamlet Khodaverdian, Vice President of Technology; Luke O'Dell, Director of Sales; Nick Roberto, Senior Vice President of Credit and Operations; Jay Shaw, Director of Operations; and Rob Weening, CFO.
When asked how the company achieved its recent growth, Cofounder and President, Ben Gold said, "We focus specifically on user experience and efficiency. We're customer focused, and that's a real driver to our growth." Cofounder and Vice President, Jason Osiecki added, "We've had disciplined growth, it was by design. We set up processes and systems and created our own software."
Looking to the future, Gold mentioned that the alternative lending industry is five times what it was in 2008, and it's exponentially growing as small-business owners transfer their allegiance and trust from bank lending to private funding sources such as Quick Bridge Funding. The company plans on reaching 100 employees over the next three quarters.
For more information on Quick Bridge Funding call (888) 233-9085 or visit http://www.quickbridgefunding.com.
About Quick Bridge Funding
Quick Bridge Funding is a privately-held financial services firm headquartered in Orange County, California. It provides a diverse variety of working capital and short-term debt financing products for small to medium-sized businesses nationwide. Launched in 2011 Quick Bridge Funding differentiates itself from traditional lending sources by evaluating a business' cash flow versus credit. It prides itself on its ability to quickly and efficiently fund and close transactions. The firm has grown from two to nearly 70 employees – from 1,000 square feet to 10,000 square feet of office space. Working capital loans are used for various purposes, such as purchasing inventory and bridging gaps due to seasonal changes. Quick Bridge is able to fund close to all Standard Industrial Classification (SIC) and North American Industry Classification (NAICS) code business in all 50 states. Experience, technical knowledge, strong capitalization and creativity make it possible for Quick Bridge Funding to help small to medium-size businesses achieve the American Dream. Visit http://www.quickbridgefunding.com.