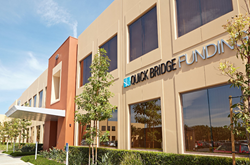 We're thrilled with our growth and expansion.The additional space will allow us to continue to invest in our people and technology infrastructure," said President Ben Gold
Irvine, CA (PRWEB) April 08, 2015
Quick Bridge Funding, a privately-held financial services firm, is pleased to announce its move to new headquarters in Market Place Center. Previously located in Orange, the company has increased its physical footprint to 17,000 square feet at 410 Exchange, Suite 150 in Irvine, California. In addition Quick Bridge Funding opened an East Coast satellite office at 205 E 42nd Street in New York City.
Quick Bridge Funding worked with Mike Lewis and the Hughes-Marino team to finalize the lease transaction with Irvine Company Office Properties for its new corporate headquarters. Brandon Trentham and the team at Town West Village helped locate and negotiate the firm's New York City satellite office space.
As one of the country's leading alternative lending providers, Quick Bridge provides a variety of working capital and short-term financing products for small to medium-sized businesses. The Orange County Business Journal recognized Quick Bridge Funding as the fastest growing mid-sized company in 2014. The firm currently employs 94 with plans to expand its workforce.
"We're thrilled with the growth and expansion of Quick Bridge Funding. It's an exciting time to be in the business-to-business alternative lending space, and we're working hard to stay ahead of our industry's strong growth curve," said CEO and President Ben Gold. "The additional space will allow us to continue to invest in our people and technology infrastructure."
In Harvard Business School's 2014 State of Small Business Lending paper, analysts explained how technological advances are boosting the momentum of alternative lenders. As a result, ease of use and fast turnaround has improved significantly in the past 12-18 months. These developments combined with better customer service led alternative lenders to double their portfolios annually and lift smaller businesses by funding their needs for growth.
Quick Bridge Funding works exclusively through a trusted network of professional sales organizations. Many of these organizations are located in the New York City metro area and in an effort to better serve these relationships, Quick Bridge Funding has opened a satellite office in New York City.
"The NYC expansion will allow us to have additional exposure and contact with these partners. The entire foundation of our business is built upon these relationships and how efficiently and professionally we can deliver timely service," said Vice President Jason Osiecki. With their expansion, Quick Bridge Funding is refining its business models in ways that yield flexibility and profitability to promising small businesses.
For more information on Quick Bridge Funding call (888) 233-9085 or visit http://www.quickbridgefunding.com.
About Quick Bridge Funding
Quick Bridge Funding is a privately-held financial services firm headquartered in Irvine, California with a satellite office in New York City. It provides a variety of working capital and short-term debt financing products for small- to mid-sized businesses nationwide. Launched in 2011 Quick Bridge Funding differentiates itself from traditional lending sources by evaluating a business' cash flow versus credit. The firm has grown from two to 94 employees – from 1,000 square feet to 17,000 square feet of office space. It ranked #1 on the 2014 Orange County Business Journal's Fastest-Growing Private Companies Midsize Companies List. Experience, technical knowledge, strong capitalization and creativity make it possible for Quick Bridge Funding to help small- to medium-sized businesses achieve the American Dream. Visit http://www.quickbridgefunding.com.