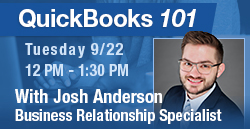 Ideal CU is a one-stop shop for all of our business members, and I enjoying working closely with each and every one to truly understand and meet their unique business needs to help them grow and succeed. - Business Relationship Specialist Josh Anderson
WOODBURY, Minn. (PRWEB) September 03, 2020
Ideal Credit Union will host a no-cost QuickBooks 101 Business Webinar on Tuesday, September 22, 2020, from 12:00 -1:30 p.m. Join Ideal's Business Relationship Specialist Josh Anderson and guest instructor Randy Morris from Fiscal Foundations, LLC, a certified QuickBooks ProAdvisor, to learn about the benefits of QuickBooks and how to get started.
QuickBooks topics to be covered include the importance of a good accounting system, QuickBooks features and capabilities, how to get started with QuickBooks, and an overview of recording transactions and creating reports.
Ideal's insightful workshops are open to the community and you do not need to be a member to attend. Registration is required and can be done online at idealcu.com/business-banking/business-workshops.
Ideal offers quarterly educational workshops to business owners covering important topics such as Starting Your Own Business, Marketing & Communications Planning and Social Media Marketing. Future workshops for 2020 will include a Licensing and Tax Overview in December. Information on these exciting, free workshops is posted at idealcu.com/business-banking/business-workshops.
Ideal also produces award-winning Business Member Spotlight videos to highlight the variety of business banking services we offer, and showcase the unique and diverse business members we serve, including a dog groomer, a towing company owner, motorcycle repairman, professional photographer, plumber and tattoo artist. These videos capture the personality of each individual business owner and tells their story of how and why they started their business, and how Ideal CU has been a partner in helping meet their unique business needs.
Ideal's mission in business banking is to provide the services, products, and resources business owners need to help their business succeed. The credit union's priority is to help Minnesota and Wisconsin business owners increase their bottom line and enjoy a more convenient way to manage day-to-day tasks. "Ideal CU is a one-stop shop for all of our business members, and I enjoying working closely with each and every one to truly understand and meet their unique business needs to help them grow and succeed," said Business Relationship Specialist Josh Anderson
Founded in 1926, Ideal Credit Union is a member owned financial institution that is dedicated to providing financial services driven by a sincere and personal interest in the needs of our employees, members and community. Ideal CU offers a complete range of services, including a full suite of digital banking products, savings, checking, loans, mortgage products, business services, investment services and more. Offices are located in Eagan, Hugo, Inver Grove Heights, North St. Paul, Stillwater and Woodbury. Visit idealcu.com for details and directions. Ideal has been voted "Best Credit Union in the East Metro" four years in a row by readers of the Stillwater Gazette, "Best Credit Union in the Forest Lake Area" by readers of the Forest Lake Times, and was named a 2020 Star Tribune Top Workplace. Equal Housing Lender.