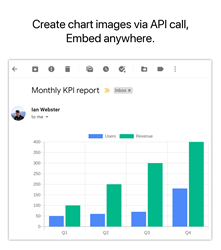 QuickChart is the only web-based chart API that is completely open-source and without watermarks.
SAN MATEO, Calif. (PRWEB) August 26, 2020
Today QuickChart announces the launch of its cloud-based chart rendering service. The QuickChart API generates charts and graphs that can be directly embedded in messages and documents, removing the need for complex render infrastructure at scale.
QuickChart is an open-source project that has already seen adoption by hundreds of businesses, ranging from individual developers to research institutes and Fortune Global 500 companies. The new chart API builds on its open-source roots by removing technical hosting requirements and simplifying configuration. The service supports large enterprise workloads and is backed by worldwide datacenters that provide redundancy and minimize latency.
"Most companies don't want to spend valuable developer time building a chart render cluster, and many chart libraries are incompatible with email and other static formats. QuickChart allows developers to use popular chart libraries and is the only web-based chart image API that is completely open-source and without watermarks," commented Ian Webster, CTO.
QuickChart's API is compatible with the popular Chart.js and Google Chart frameworks, offering a variety of chart types such as bar, line, pie, scatter, sparkline, and compound charts with unlimited customization including multiple axes, custom fonts, gradients, compound charts, patterned charts, retina support, and more. Users may access a chart gallery and editing tool that allows them to explore various chart types and customizations.
QuickChart's launch includes Python and Javascript chart libraries, as well as code examples and support for PHP, C#, Java, Ruby, and other languages. Because the API allows charts to be constructed as simple URLs, it can be easily used in any programming language. More advanced users may generate shortened URLs with tracking capabilities.
The QuickChart project has its genesis in the 2019 discontinuation of Google Image Charts API. While Google's discontinuation of the chart API took many developers by surprise, "our open-source model ensures that users will never suffer from vendor lock-in or surprise shutdowns," explained Mr. Webster.
To learn more about how to include charts in marketing emails, reports, and anywhere else, go to https://quickchart.io.
About QuickChart
QuickChart provides a free chart image API that is open-source, with Commercial and Enterprise licenses available for purchase. In addition to chart rendering services, QuickChart hosts Chart.js and Google Charts tutorials, as well as other data visualization tools such as renderers for GraphViz layouts and Word Clouds.
About Alioth LLC
The QuickChart web service belongs to a suite of visualization tools created by Alioth LLC, a data visualization consultancy based in San Mateo, CA whose work has been featured by Google, NASA, the New York Times, and numerous other clients since 2015.