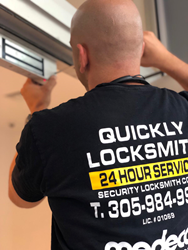 If you suspect that someone has tampered with your locks, it's important to take action.
MIAMI (PRWEB) September 11, 2021
How to Tell Whether Your Locks Have Been Tampered With:
If at any point you suspect that your locks have been tampered with, it's important to stay calm so that you can assess the situation with a level head. What you want to do is look for physical evidence of tampering – here is what to look out for.
1. Brute Force:
Brute force isn't as common because it is often the loudest and messiest, but intruders do still resort to this method. To enter a home, an intruder will break a lock or window, kick in a door, or use a drill to remove a deadbolt. This specific type of entry is the easiest to spot.
Look out for warped or broken doors or windows, bent deadbolts or latches, and scratches that could indicate a lock was loosened, moved, and tightened again. It should be said that intruders generally don't take the time to attach a lock again unless they know for certain you won't be home for hours.
2. Lock Bumping:
Lock bumping has been around for quite a few years and it's a technique that most locksmiths still use today. Unfortunately, this means that the bumping technique is common knowledge and criminals can learn how to do it too.
To bump a lock, an intruder starts by filing down a key. The key is then inserted into the lock just short of full insertion. Thereafter, the key is bumped with a blunt object to push it even deeper into the lock. What this does is align the pins inside the lock, allowing the intruder to open the door by simply twisting the key slightly.
You can tell whether a lock has been bumped by the small nicks and marks you will find around the lock – this is from the bumping. The metal edges of the lock could also be slightly bent.
3. Lock Picking:
Lock picking is the other most common method for accessing a home – a method that has been around for years. To do this, an intruder requires small tools to turn a lock and rake the pins inside the lock. A flat screwdriver is one of the most common tools used. As soon as you can get the pins to catch, it's very easy to turn a lock without a key.
With that being said, lock picking is a bit more difficult to get right than bumping. And since it is a gentler process than bumping, it can be difficult to spot any physical signs that your lock might've been picked. One sign that a lock was picked is the appearance of small scratch marks around the keyhole, which were caused by a screwdriver.
What to Do If Your Locks Were Tampered With:
If you suspect that someone has tampered with your locks, it's important to take action. This time it might've happened while you weren't at home. Next time, this might not be the case. Here are some of the steps you can take to better protect your home.
Replace or Upgrade Your Locks:
If your locks have been tampered with, it's important to replace them as soon as possible. If the locks weren't damaged, you may be able to rekey the locks instead. What's important to note is that if you replace your locks with the same make and model, the tampering could easily happen again. A better option is to upgrade your locks instead. Digital locks have become a popular option because of how much safer they are.
As an added step, you could install or upgrade your general security system too. Alarms, CCTV cameras, and video doorbells are all products that will enhance your home's security while you're there or away.
Report the Incident:
If you know for a fact that an intruder tried or successfully managed to access your home, it's important to report the incident to the police. If you live in an apartment building, make sure the building owners and security are aware of the incident too. Your landlord can assist you with any security repairs and upgrades if you are not the owner of your home.
Pick a Locksmith Carefully:
Before you start upgrading your home's security, find a reputable locksmith to assist you. Experienced and trustworthy locksmiths not only get the job done quickly and correctly, but they can provide you with product recommendations too.
When researching local locksmiths, make a point of reviewing their website as well as any reviews that are available. Ask for a quote over the phone before they meet you at your home to get an idea of the cost. It's also best practice to ask for a written quotation before they begin the work.
If you need professional advice from trusted Miami locksmiths, contact Quickly Locksmith on: (305) 984-9922.