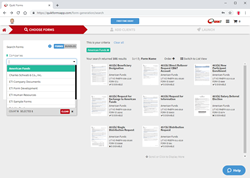 With the Quik! Forms App, users can create bundles of forms, add custom forms, collaborate and distribute forms directly to clients, enable e-signature integration, and more.
TORRANCE, Calif. (PRWEB) June 11, 2019
Quik! today announced the launch of the Quik! Forms App, a cloud-based turnkey solution that gives companies of all sizes access to forms automation. The technology reduces human error and maximizes productivity by diminishing the hassles of manually filling out paperwork. The app seamlessly integrates with Redtail, the premier client management solution designed specifically for financial professionals.
The Quik! Forms App (starting at just $25 a month) is a software-as-a-service (SaaS) platform for generating, prefilling, signing or printing forms to PDF using an organization's own data. Users can save time filling out forms by entering data only once and having it automatically fill in all forms.
"Roughly 85 percent of forms are never submitted. Those are missed opportunities to close transactions," said Richard Walker, CEO and founder of Quik!. "This product makes the often-tedious task of filling out information on several forms much easier for you, your staff, and most importantly, your clients."
With the Quik! Forms App, users can create bundles of forms, add custom forms, collaborate and distribute forms directly to clients, enable e-signature integration, and more. The solution is supported by every web browser, enabling an effortless workflow without the frustration and wasted time of format compatibility issues.
"Quik!'s new product offers a practical application of CRM data for clients in the financial services industry," said Brian McLaughlin, CEO at Redtail Technology. "Redtail's CRM plays a critical role in the sales cycle and client relationships, and Quik! empowers our users to seamlessly apply their data to the forms they use every day. We're excited to see a new way to make it easier for our customers to grow their business."
Quik! is rolling out a value pricing model that is based on customer usage. Pricing is volume-based in tiers of available features and customizable packages to meet the needs of all form users. Additional product capabilities will be introduced in the coming months.
The Quik! Forms App is purpose-built to help enterprises gain high levels of adoption with their users so firms can rapidly improve their business workflows, open new accounts faster, onboard clients with ease, and eliminate rejected paperwork. Quik! solves many use cases where forms are repetitively filled out including transitioning accounts, enrollments, government and financial paperwork, standardized legal forms and more.
To learn more about the Quik! Forms App, please visit: https://quikforms.com
About Quik!
Quik! is a provider of forms automation and management solutions for companies looking to maximize efficiency and productivity. Its technology is simple and easy to use, reducing the time and hassle of paperwork and empowering users to do their best work. Each form is fillable, interactive, secure and signable, allowing Quik! customers to collectively save thousands of trees per year. Quik! API and App solutions feature an unparalleled standard definition of more than 500,000 fields and an extensive library of more than 34,000 forms that are easily integrated with CRM and other systems. Founded in 2002 by business consultant and entrepreneur Richard Walker, Quik! helps the top firms in the financial industry improve their bottom line. For more information on Quik!, visit quikforms.com.