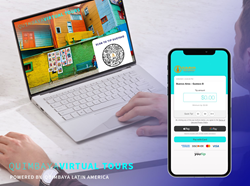 We encourage everyone to sign up to get a one-of-a-kind tour experience and see first-hand just how easy it is to leave a digital tip through youtip.
CHICAGO (PRWEB) May 05, 2021
Quimbaya Latin America, a Destination Management Company known globally for designing itineraries, providing local expertise, and operating business-to-business travel tours across Argentina, Bolivia, Brazil, Chile, Colombia, Costa Rica, Ecuador, Guatemala, Mexico, Panama, and Peru, has recently added virtual live streaming and interactive tours through a new partnership with youtip. Faster than cash, the youtip digital tipping solution enables participating tour operators and travel agents to pay cashless gratuities to tour guides without having to download an app. Not only is this technology helping to maintain the livelihoods of those working in these developing countries, but it is bringing hope that travel and tourism may soon return to pre-COVID-19 levels.
"The tipping process is extremely important in the tour business," said Laura Ortiz, Quimbaya Global Sales Director. "It is part of the tourism culture and vital to the financial wellbeing of the tour guides, transportation drivers, and porters who make these travel tours possible. In Latin America, everyone is familiar with — and accustomed to — tipping; showing appreciation by way of a gratuity is expected by every travel agent who engages our services. When COVID-19 hit, the world shut down, and in person real tours came to a halt. With no resources coming in, we had to find a new model to keep the tour business alive.
"We tried hosting webinars to keep our clients up-to-date on the situations in each country, but without live video, it wasn't a compelling draw," she said. "We needed to find a way to share our passion for the culture and the country landscapes and get people to interact with the locals. Virtual tours were the answer, but they posed significant challenges. First, we had to get the tour guides comfortable with speaking on camera and using smartphones to record the outings. Then we had to find a way to compensate them for their service. We did extensive research on the various digital payment solutions and others, but each had international restrictions. Then we found youtip. It is exactly what we need to carry us through our next journey of providing virtual global tours. We believe strongly that these virtual live streaming tours will become a trend, and we can't thank youtip enough for its responsiveness and ability to adapt to our diverse international needs."
Youtip was up and running within a week of Quimbaya launching its first test virtual tour. Ortiz said the service was well perceived by all B2B clients, and even a few B2C participants who attended the trial said they were impressed with youtip's functionality and ease of use.
Here is how it works: Mid-way through the virtual tour and again at its conclusion, Quimbaya tour participants are provided with a link for digital tipping and/or the option to scan a digital QR code. With just a click on the link or scan of the QR code, a payment screen appears, and tippers are asked to enter the gratuity amount and choose how they want to pay: Apple Pay, Google Pay, or Credit Card. It's Click, Tip, and Go! youtip routes the funds collected to company's bank account along with transaction reporting. Due to the flexibility of the youtip platform, Ortiz said the virtual tours can be benefited by both B2B clients and their B2C consumers.
Official Quimbaya Latin America Virtual Tour Launch
"Quimbaya will officially launch its virtual live streaming tours on May 10," Ortiz said. "Clients and consumers can register for the event — which will be available for 60 days initially and in French, Spanish, English and Italian — on the new Quimbaya Virtual Tour site (https://www.virtual.quimbaya-tours.com). We encourage everyone to sign up to get a one-of-a-kind tour experience and see first-hand just how easy it is to leave a digital tip through youtip. We are certain our customers will be as amazed as we were just how easy it is."
The average tip paid to tour guides during the first two virtual tour trials leveraging the youtip digital tipping platform was approximately $9.64, with some individual tips as high as $50. When live tours resume, Ortiz said Quimbaya is considering placing youtip's convenient QR codes on tour buses and collateral materials, so participants can Scan, Tip, and Go!
"We are thrilled to be in partnership with Quimbaya Latin America and have the opportunity to introduce the world's leading travel agents and tour operators to digital tipping via youtip," said Doug Miles, youtip Chief Operations Officer. "youtip is the simplest and fastest digital tipping solution for today's evolving cashless economy. We are solving the two fastest-growing problems facing service industries — the disappearance of cash and the growing demand for contactless solutions."
For more information on youtip, visit http://www.youtip.money. For questions about business customization, integration, or enterprise deployment, click here.
# # #
About youtip
youtip creates digital solutions for the evolving cashless tipping economy. The company was founded in 2020 to serve as an enterprise system for digital gratuity. With the global pandemic increasing demand for contact-free business interactions, youtip provides a cashless, contactless, and "appless" digital tipping service with full reporting for all business types. Tippers scan QR codes or tap through links in text and email messages to arrive at youtip's simple, secure payment screen. After submitting the tip, the user can leave a star rating and review. All transactions and customer feedback can be viewed via the youtip digital dashboard. Payments post to the business account within two days, and tips are disbursed to employees per payroll guidelines. For more information, visit http://www.youtip.money.
About Quimbaya Latin America
Quimbaya is the only DMC in Latin America with its own local offices and own operation teams in 11 countries with 16 offices: Mexico, Guatemala, Peru, Argentina, Brazil, Ecuador, Bolivia, Chile, Colombia, Costa Rica, Panama. A complete homogenized company with same standards and operations in each country. Quimbaya Latin America sells only business to business and is exclusively providing incoming services with 4 commercial offices in Europe and Asia. For 34 years, the company has been creating unique tailor-made itineraries and specific product Collections for all segments: MICE, Luxury, Groups, FIT (individuals). Today, we have Guaranteed Departures for each of the 11 countries in English, French and Italian. Our product Collections include all travel types such as Explorer, Must-See Places, Beach stays, Travel Differently including local community activities. For more information visit http://www.quimbaya-tours.com or email laura-ortiz@quimbaya-tours.com.