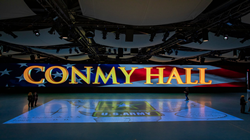 "The video systems integration wasn't just about technology . . . but the ability to work with different partners, demanding stakeholders and the idiosyncrasies of an historic structure, coupled with the ability to course correct in real time, made them superstars on this project."
STERLING, Va. (PRWEB) May 04, 2020
Quince Imaging, leader in experiential display designs, is proud to be part of the team that delivered an audiovisual renovation of the 35,000 square-foot Conmy Hall, one of the most historic structures at Fort Myer in suburban Washington, DC. This premier indoor ceremonial and special events space is used for the United States Army, The White House and the Department of Defense for a host of important ceremonies and presentations. The key part of the overhaul was the installation of a state-of-the-art 144' LED video wall by Quince Imaging.
The renovation project, which began in October 2019, was primed by The Bridge Group, with Quince Imaging selected as the prime video systems integrator. The Quince team, with their extensive experience in large format displays, was tasked with designing, engineering, and installing a robust new system which includes LED & projection displays, a broadcast switching system, high resolution screen control, modernized fiber interfaces for mobile video trucks, as well as unified control systems for simplified day-to-day operations. The control system allows for the more frequent mid-scale productions to be operated by 2 personnel, while allowing expandability for larger productions to be fully supported by mobile video trucks, with all necessary patch bays, routing and broadcast support.
By far, the largest technical challenge of the renovation was a newly installed LED wall that covers a massive 144' wide span, the full width of the venue. To accommodate stage entrances with such an expansive screen, a 25' automated pull-out entryway was built directly into the LED display, creating a built-in doorway, which, at the push of a button can be retracted as the show begins. The result is a seamless, wall-to-wall video screen which fully encompasses the length of the venue for optimal audience viewing from every seat.
Driving the 12,000,000-pixel LED wall in tandem with a 4k projection system required the most sophisticated imaging technology on the market, including an array of Pandoras Box media servers, Spyder X80 screen management system, as well as a Production Studio 4k 2ME switching system for standard broadcast camera control.
"I can't think of a better partner for this project than Quince Imaging," said Cathy Arevian, The Bridge Group's CEO. "The video systems integration wasn't just about technology – which was staggering in itself – but the ability to work with different partners, demanding stakeholders and the idiosyncrasies of an historic structure, coupled with the ability to course correct in real time, made them superstars on this project."
The new conceptual design will meet the audiovisual needs of all events hosted at Conmy Hall for many years to come.
About Quince Imaging
Quince Imaging is an innovative experiential display and design firm located in the suburbs of Washington, D.C. Merging a unique combination of creativity, technical process management, and unmatched expertise in the area of specialty imaging development, Quince is known for continuously raising the bar in providing awe-inspiring immersive experiences for live and virtual audiences worldwide. Quince's loyal client base spans a diverse spectrum of markets, including corporate, labor unions and associations, professional and collegiate sports teams and venues, and global outreach organizations. Quince specializes in live event imaging production, creative development, including 3D and holographic visual effects, and permanent imaging system design and installation. For additional information, please visit: http://www.quinceimaging.com.