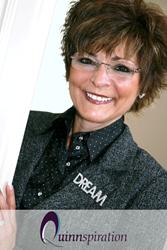 Mendon, VT (PRWEB) June 24, 2015
New Life Hiking Spa, located in the Green Mountains of Vermont, will welcome motivational speaker, Mary Quinn of Quinnspiration during the week of August 31 – September 4, 2015.
Mary has been in the wellness industry for over 30 years and is a well-known motivational speaker in the "spa world". She is the owner of Quinnspiration, based in the mid-west, and travels throughout the country speaking at spas and other wellness-focused organizations.
The Active Times picked New Life Hiking Spa as a "Top Ten Wellness Vacation for 2015" and Rand McNally picked New Life as one of the top three "Summer Stays of the 2015 Season." New Life has been consistently picked as one of the top ten spas in the world by SpaFinder Wellness Reader's Choice Awards for hiking, outdoor adventure, solo travel, weight loss, affordability and fitness classes over the past decade. New Life was listed as the #1 spa for 2014 on the annual list by Spas of America.
New Life Hiking Spa is known as one of the most affordable destination spas in North America, regular prices range from $235 - $265 per night. All-inclusive prices include a room, three meals per day, fresh fruit and vegetables as snacks, one guided hike every day (three levels offered per day to accommodate everyone's fitness needs), fitness and yoga classes, one massage for every three night stay and evening lectures and cooking demos. All guests of New Life Hiking Spa during the week of August 31st can partake in the motivational lectures and aquatics classes taught by Mary Quinn.
Additional information about Quinnspiration and Mary Quinn can be found at http://www.quinnspiration.com.
Packages are offered for 2-4 night mini-getaways, 5-10 night jump start retreats and 11 night or longer weight loss retreats at New Life. More information can be found online at http://www.newlifehikingspa.com.