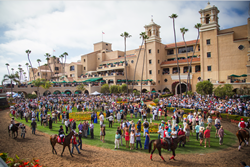 DEL MAR, Calif. (PRWEB) March 04, 2020
Following its milestone 80th summer racing season, this summer Del Mar reprises the San Diego horseracing tradition at its iconic setting where the turf meets the surf. The season will kick off with Opening Day on Saturday, July 18 – on a Saturday for the first time in 40 years. With the season running through Labor Day, locals and visitors alike will get to enjoy an additional week of racing compared to previous years.
For the first time in nearly half a century, San Diegans and visitors can begin their summer on a Saturday at Opening Day at Del Mar, one of the most fabulous, fashionable and fun Southern California traditions. Each year thousands celebrate this unofficial city holiday—flocking to the track, dressed to the nines from head to toe. Fans with the most extravagant headpieces are welcome to enter the Opening Day Hats Contest, one of the longest-standing Opening Day rituals where fans can compete for more than $5,000 in prizes.
The season carries on through Labor Day, September 7, featuring top entertainers and festivals offering the best in bites and booze. All events take place in tandem with exciting racing showcasing the nation's leading Thoroughbreds, trainers and jockeys at the famed oval that continues to lead the nation in horseracing safety.
As always, the track will hold its Del Mar Summer Concert Series, giving fans the chance to catch a free show most Friday and Saturday nights following a day of racing. This year, fans can sway to the reggae vibes of Iration on August 15 and Ziggy Marley on September 5. Country star Billy Ray Cyrus will have fans of all ages kicking up their boots on August 8. All concerts are 18 and up with the purchase of standard $6 racetrack admission. For concertgoers entering after the day's final race, concert admission is $30. Performances begin shortly after the final race of the day.
In addition to stellar musical entertainment, Del Mar boasts an exciting event lineup celebrating the region's food and beverage scene. Wine enthusiasts can once again look forward to the annual Uncorked: Del Mar Wine Fest on August 1 and enjoy the region's favorite barbecue purveyors at the Turf & Surf BBQ Championship on August 8. Mexican food and drink lovers can get their fill at the Taco & Tequila Fest on August 15 and take a daytrip to the Big Easy with bayou delicacies at Taste of New Orleans on September 6.
Alongside the special weekend events, there are weekly attractions that make Del Mar a sure bet for every price point. From Free & Easy Thursdays, featuring free admission, seat and program along with deals on tallboys and Brigantine tacos to Friday Happy Hour where all hand-made signature drinks are half-off until 6 p.m., there is no doubt that the track is the coolest place to be on a summer evening.
Every weekend at Del Mar is filled with fun opportunities to enjoy the many aspects of the track. Enjoy fine dining at Taste of the Turf Club every Sunday and take the opportunity to learn the ins and outs of horseracing at Daybreak at Del Mar on Saturday and Sunday mornings.
On Saturday, August 22, Del Mar will reprise its richest racing day with more than $2 million in purses including the $1 million TVG Pacific Classic. The mile and a quarter Grade I testing is one of the west's foremost racing prizes and is likely to attract several of the best Thoroughbreds in the country.
In 2021, the Del Mar Thoroughbred Club again looks forward to hosting Breeders' Cup, the two-day racing World Championships that cap off the racing season in November. Del Mar hosted Breeders' Cup in 2017, setting the highest recorded economic impact for the Championship event with $96.8 million in direct and indirect economic benefits for San Diego County.
Racing at Del Mar takes place Wednesday through Sunday with the exception of Wednesdays, August 26 and September 2. Closing Day takes place Labor Day Monday, September 7. First post daily is 2 p.m. except on Fridays when first post shifts to 4 p.m. For more information, call 858-755-1141 or visit http://www.dmtc.com. You can follow Del Mar on Instagram and Twitter at @delmarracing or on Facebook @DelMarRaces.