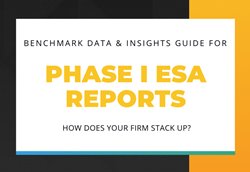 "When we talk to people at conferences or when we touch base with clients, we hear that the price of Phase I ESAs remains stagnant even as the economy changes," says Stratton. "How do they remain profitable? How do they make sure these vital reports are not just loss leaders?"
DOYLESTOWN, Pa. (PRWEB) April 21, 2021
Quire, the technical report writing platform designed for efficiency and quality, today announced the availability of a new report that includes time-tracking data collected from over 30,000 Phase I Environmental Site Assessments (ESAs). The report, "The Benchmark Data & Insights Guide for Phase I ESA Reports," shows mean report writing and editing times across multiple organizations, providing a benchmark for environmental firms who aim to become more competitive in the market. This data is available to anyone to access now on the Quire website. Only Quire platform users have the ability to quickly gauge their own efficiencies within every report, as well as against the mean.
Quire's report reveals that high-volume firms (100+ Phase I ESAs per year) are able to produce reports 25% faster than low-volume firms (less than 100 Phase I ESAs per year). The data is unique in that it provides a precise, unbiased measurement of the time taken to complete each Phase I ESA ASTM. Quire defines how long a user is actively editing a report based on delays between edits. This formula emphasizes active editing in lieu of time spent reading or reviewing without edits. Ultimately, time is tracked for the entirety of the Phase I ESA lifecycle, including setup, data entry, review, and final assembly.
Kelly L. Stratton, CEO and Founder of Quire, says that environmental firms struggle to be price competitive with Phase I ESA ASTMs without losing profits. "When we talk to people at conferences or when we touch base with clients, we hear that the price of Phase I ESAs remains stagnant even as the economy changes," says Stratton. "But this is an essential service in commercial real estate due diligence and often leads to other opportunities for winning new business. How do they remain profitable? How do they make sure these vital reports are not just loss leaders?"
Creating efficiencies in the report writing process can help environmental firms remain price competitive without affecting profits. Stratton believes the key is to do so without sacrificing quality. "Larger environmental firms—those that write over 100 Phase I ESAs per year—already know how to do this. They are writing reports faster while winning new and repeat customers largely because they have found ways to streamline their templates and processes."
Along with mean report writing and editing times for Phase I ESAs, Quire's benchmark report also includes tips on how to create more efficient writing and editing processes, such as using tables whenever possible and limiting repetitive content. Quire users can build their own customized Phase I ESA templates using innovative features only available within the Quire platform.
Environmental consultants can download the report for free on the Quire website.
About Quire
Quire provides a user-friendly, cloud-based technical report solution designed specifically to help consulting firms by optimizing data collection, writing, tracking, delivery, and management of reports. Quire empowers clients to create cost-efficient, best-in-class reports with open and flexible software backed by an expert team of industry professionals as well as data-driven insights. Visit OpenQuire.com to learn more.