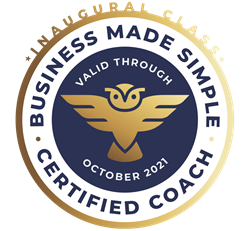 Our focus is on helping purpose-driven organizations reach their growth goals while positively impacting the communities they serve.
FORT WORTH, Texas (PRWEB) January 05, 2021
Quirk Growth, a Fort Worth-based coaching and marketing services company supporting organizations around the United States, is one of the area's first groups to attend and graduate from Business Made Simple's (BMS) business coaching certification program. Executives Jake Jordan and Chris Rivera earned their BMS certification in the program's inaugural class this fall.
"Coaching has always been an inherent part of our marketing services," said Jordan, "and the BMS model and curriculum align perfectly with our focus on helping purpose-driven organizations reach their growth goals while positively impacting the communities they serve."
In addition to the company's BMS certifications, Quirk Growth's Chris Rivera is also a StoryBrand Certified Guide, helping organizations clarify their message and marketing. StoryBrand is the messaging and branding arm of Business Made Simple.
"As a StoryBrand Certified Guide, I've seen the power that clear language and marketing can bring to an organization," said Rivera. "Now, through our BMS certification, we're able to formally provide coaching to our clients around these sound, proven practices so that they can affect their companies as a whole, from their leadership teams to their clientele and partners."
Jake Jordan, Quirk's Chief Clarity Officer, joined the company to help lead Quirk after a career in business ownership in the real estate, financial advisory, and advertising industries. He attended Abilene Christian University, where he was a member of Gamma Sigma Phi, prior to departing to launch a real estate company. He is also a graduate of the High Performance Institute's coaching program. At Quirk, Jordan keeps the organization and its clients focused on goals and tasks that create impact and are of real priority.
Chris Rivera, Quirk's Chief Story Officer, has over a decade of experience in marketing and business coaching, particularly in the multi-family apartment industry. Rivera earned his Associates Degree in Practical Theology from Christ for the Nations, and he has been a StoryBrand Certified Guide since 2018. As a part of the Quirk executive team, Rivera helps the organization and clients invite audiences into compelling stories so they are invested and want to act.
To launch Quirk's new business coaching service, the company is hosting a giveaway in which individuals may nominate themselves or others to win a series of prizes in the form of Quirk business growth professional services. Visit quirkgrowth.com/giveaway for more information.
About Quirk Growth
Quirk Growth is a Fort Worth, Texas-based coaching and marketing services company focused on helping mission-minded organizations reach their growth potential. Specifically, Quirk provides clarity and confidence to organizations through intentional communication to their team and their clients via business coaching and fulfillment services. To learn more, visit Quirk online, on Facebook and Instagram, or subscribe to their podcast Clarity & Purpose.