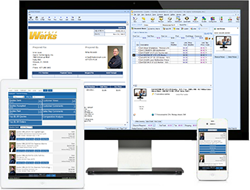 QuoteWerks is a highly effective tool that seamlessly integrates into our [Tech Data] system
Orlando, FL (PRWEB) May 26, 2016
Aspire Technologies, Inc., the market leading provider of sales quoting and proposal software solutions, announced today the release of QuoteWerks version 5.1 build 6, which provides customers access to Tech Data quotes, created by their Tech Data sales representatives, using Tech Data's quoting system.
"We partner with Application Service Providers (ASPs) like QuoteWerks because we want to provide the best customer experience for our resellers," said David Spindler, director, e-Business at Tech Data. "QuoteWerks is a highly effective tool that seamlessly integrates into our system, removing human error and increasing productivity for our partners."
Professionals in the information technology (IT) industry routinely rely on their distributor's sales representatives to assist them with product selection pricing, specially configured systems and other value-added services. QuoteWerks integration eliminates the need for custom-tailored quotes to be manually entered into a reseller's quoting tool, removing the potential for human error. Additionally, QuoteWerks customers can quickly customize, format, finalize and deliver the quote to customers via an interactive quote delivery system.
QuoteWerks Product Content Subscription, powered by Etilize, refreshes line items in a QuoteWerks document with pictures, customer friendly descriptions, marketing summaries, optional items and specification sheets. The process, which once required users to review multiple websites, manually transfer and update information into the document, is now fully automated through the QuoteWerks integration.
"QuoteWerks is the leader in this space, innovating in areas not previously explored in the industry," said John C. Lewe, QuoteWerks founder and president at Aspire Technologies, Inc. "This strategy has solidified QuoteWerks as the integration leader by offering integration options not available in other applications. QuoteWerks has more integration points than any other ASP currently partnering with Tech Data. "
Integration points between QuoteWerks and Tech Data include:

Retrieval of real-time pricing and availability
Placing of online orders directly from QuoteWerks
Tracking shipping statuses and serial numbers for ordered items in real-time
Importing/exporting of shopping cart items from the Tech Data website
Importing Tech Data Excel and SAP quotes into QuoteWerks
"Aspire came to Tech Data with this innovative integration request, and their e-Business team implemented it very quickly for such a large organization," continued Lewe. "Known for their technical innovations, Tech Data recognized the importance of reducing the time it takes for a reseller to get quotes to their customer, and we're proud to partner with them."
QuoteWerks is the first Configure Price Quote (CPQ) solution to implement the new Tech Data XML API service, which allows IT sales professionals to retrieve available quotes directly through Tech Data.
About Aspire Technologies and QuoteWerks®
Aspire Technologies, Inc., the developers of QuoteWerks, is one of the early pioneers of the Quoting Software space. QuoteWerks has received numerous awards and is the market leading sales quoting and proposal solution serving over 78,000 users in over 101 countries. QuoteWerks® integrates with leading CRM, PSA, and accounting packages, along with IT distributors D&H®, Ingram Micro®, SYNNEX®, and Tech Data®, enabling businesses in all industries to integrate QuoteWerks® seamlessly into their existing environments. Aspire Technologies is headquartered in Orlando, Florida and is an ASCII and CompTIA member.
QuoteWerks is a registered trademark of Aspire Technologies, Inc. Other trademarks referenced are the property of their respective owners.