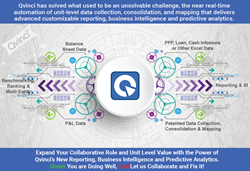 Founder & CIO Charles Nagel, Whether you are an accountant, franchise, diocese, non-profit or SMB, defining a reality going forward is needed, especially today. The What If – Cashflow & Forecasting Optimizer & Top 10 Expenses BI provides the flexibility to define your future and manage the results!
AUSTIN, Texas (PRWEB) July 24, 2020
Qvinci® Software has released its second generation of its wildly popular What If forecasting and modeling tool. 
This new solution with Qvinci's new Model Merge Technology is the most robust forecasting solution for accountants, franchises, dioceses and SMBs giving you the ability to define your future and monitor the progress.

Create virtually an unlimited number of What If models and forecasts to show the ongoing granular impact of the present COVID-19 crisis (or any other future scenarios) on their business' income, expenses, profitability and cash over time—and highlight the best path forward 
Set the Report Options to cover a truly customizable range
The reference period can be set as a single month, a range average, or seasonal 
The first What If month and the beginning reference month are fully customizable
Finally, there is a 12 month What If to Actual presentation with integrated charts and graphs 
As the Chart of Accounts changes, Qvinci's Model Merge Technology keeps the parent-child relationship intact and slots any new accounts correctly in the model instantaneously
Click Here to Read Full Release
Users make intelligent and timely adjustments to one or many accounts to establish an actual forward-looking 12-month roadmap, such that you immediately see your adjustments and their impact on the running cash balance and P&L performance for the next 12 months. What can be more relevant today!
Bonus: Qvinci is also releasing new versions of the Top 10 Expenses BI Templates that can be added to your reporting packages that present unique views of the top 10 expenses as a percent of income. The variations include:
Reporting Month vs Prior Month vs Same Month Prior Year
Last 3 Months vs Prior 3 Months vs Same 3 Months Prior Year
Reporting Fiscal YTD vs Last Fiscal YTD vs Last Fiscal Year
Qvinci Once Again Delivers!  To introduce this game-changing technology, Qvinci has a live webinar scheduled for Wednesday July 29, 2020 at 12:00pm CT with its storied inventor, serial entrepreneur and renowned turnaround expert Charles Nagel, Founder and CIO of Qvinci.