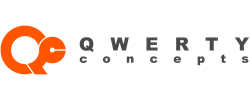 By partnering with QWERTY Concepts, you'll receive a complete managed stack of value-added services that adapts to your changing needs.
PISCATAWAY, N.J. (PRWEB) August 04, 2020
In response to the growing demands of businesses looking for a simple and effective IT solution, QWERTY Concepts (https://www.qwertyc.com/) is excited to announce the launch of their Comprehensive Plan of information technology (IT) consulting, management, design, implementation and maintenance services.
This all-encompassing program includes everything a small, medium, or large business needs to effectively manage all of their systems. Companies no longer need to worry about what to do if their network crashes, their hardware fails, or they face a security issue. Instead, owners and managers can now focus on what is most important: growing their business.
With everything a company needs to manage their systems effectively for one affordable price, businesses also don't need to build their own in-house IT team, saving valuable time and resources.
QWERTY Concepts' Comprehensive Plan Includes the following services:

A password and document management platform
Cloud administration and management
Configuration, administration, and management for all systems
Regular in-person meetings to review IT services and business needs
System upgrades and migrations including OS licenses
Backup and disaster recovery for on-premise servers
Management of firewall and security systems
Cybersecurity monitoring and end-user awareness training
Web content filtering
Unlimited on-site and remote services to resolve various issues and installations
Vendor management and administration of IP-utilities and applications
Perhaps the most innovative part of the plan is their Hardware Assurance Program, which supplies companies with workstations and servers they need for their operation. This means businesses don't even need to worry about buying hardware, making this arguably the most comprehensive IT offering currently available.
"Our mission is to provide worry-free technology services to businesses by partnering up with them, implementing value-added services, and handling their IT infrastructure," says Stanley Kaytovich, director of operations. "In our pilot program with few selected clients we have received extremely positive feedback when we arrived with a completely functional and set up workstation the next business day.
"If you own or manage a modern-day business, you're likely spending a good amount of resources on IT. By partnering with QWERTY Concepts, you'll receive a complete managed stack of value-added services that adapts to your changing needs while balancing the budget and injecting the surplus back into the department and/or business."
The Comprehensive Plan is available now for companies of most industries and sizes. Interested parties can schedule a free assessment to determine if the plan is a good fit for their business. Assessments can be scheduled by calling 877-793-7891, or by visiting https://www.qwertyc.com/schedule-free-technology-assessment/