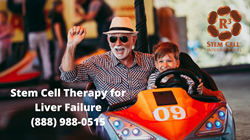 Effective stem cell treatment for liver failure requires a large amount of stem cells. R3 offers those numbers of cells in Mexico with options that are safe and cost effective!
SAN DIEGO (PRWEB) June 29, 2020
R3 International is now offering a new program for stem cell therapy for liver failure in Mexico. The program offers up to 200 million stem cells, with the cost starting at only $8975.
Millions of individuals suffer from chronic liver disease, which occurs due to a number of causes such as hepatitis, cirrhosis, metabolic diseases, and other conditions. All too often, conventional therapies fail to provide the desired result.
Stem cell therapy has been shown in several studies to produce beneficial results for liver failure. This includes a study of 43 patients from 2012 in Stem Cells and Translational Medicine noting significant increase in survival rates, along with no adverse events.
In its new program, R3 International uses the same weight based protocol. Each treatment provides up to 50 million stem cells at a time, with the treatment occurring at the stem cell therapy clinic in Tijuana Mexico. To date, hundreds of patients have received stem cell therapy in Mexico with R3 for a variety of conditions. No adverse events have been reported, and outcomes have been sensational for organ failure, arthritis, diabetes, dementia, stroke, stem cells for Lyme disease, Crohns and many more.
In order to receive treatment, patients start with a free phone consultation with the licensed, experienced stem cell doctor from R3 International. After the consult and review of medical records, the doctor provides a treatment recommendation. Then the dedicated patient concierge representative will assist with travel logistics and transportation from San Diego to the clinic is provided.
Simply call (888) 988-0515 to schedule the phone consultation and learn about options for treatment.