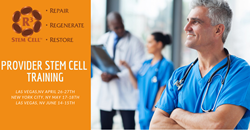 SCOTTSDALE, Ariz. (PRWEB) March 13, 2019
The nation's top provider of stem cell training courses, R3 Stem Cell, is now offering $500 off its upcoming workshops. The code to use for obtaining the discount is R3SCT500.
R3 Stem Cell is the nation's leader in regenerative procedures, with over 10,000 successful therapies having been performed to date. Last year, R3 began its first stem cell therapy training courses, teaching providers how to perform procedures, the best protocols, along with top techniques for stem cell marketing, sales, ultrasound and C-arm imaging.
The training workshops have been an immense success, with providers from all over America raving about the didactic sessions and patient care experience. R3 Stem Cell provides each attending provider with a Certificate of Completion, that is very helpful for things like malpractice carriers, instilling patient confidence, etc.
R3 offers comprehensive training on regenerative biologics, marketing and role playing on how to overcome patient objections. With regard to procedure techniques, the entire second day involves procedures on real patients who have real problems such as COPD, arthritis, kidney failure, neuropathy, degenerative disc disease, MS, ALS. Providers get to learn injection and IV protocols along with intranasal and nebulizer techniques.
Aesthetics procedures include facial rejuvenation, hair restoration and erectile dysfunction which includes both male and female procedures. R3 teaches the attendees about marketing effectively along with helping with sales conversions too.
Once again, the code to use currently for $500 off any of the upcoming workshops is R3SCT500. The code may be deactivated at any one point in time, so hurry and register! Call (844) GET-STEM for more information and visit http://stemcelltrainingcourse.org for additional information on the workshop calendar.