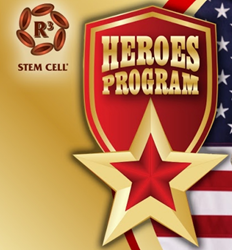 R3 Stem Cell is dedicated to honoring military veterans in need of regenerative therapies with our new Heroes Program. Anyone can send in a nomination, over ten winners will be treated!
LAS VEGAS (PRWEB) October 08, 2018
R3 Stem Cell is now offering complimentary stem cell treatments to military veterans in Las Vegas through its new Heroes Program. Veterans may be any age and can be nominated by friends, family or even by themselves!
The R3 Heroes Program is accepting nominations for any military veteran who can benefit from a regenerative procedure for conditions such as arthritis, COPD, kidney failure, neuropathy, erectile dysfunction, back pain, Lyme disease and autoimmune syndromes. The stem cell treatments in Las Vegas are offered by Board Certified, Fellowship Trained physicians.
R3 Stem Cell has over thirty Centers of Excellence nationwide that have performed in excess of 50,000 procedures. So many patients have had their lives changed dramatically, with quality of life being improved so they can participate in desired activities that have been missing.
With so much success being achieved with an impressive safety record as well, R3 is now dedicated to honoring our nation's military veterans, including those men and women who have placed their lives at risk to ensure our nation's freedom. Often times, military activities lead to significant joint deterioration over time and chronic pain issues after active duty is complete.
Along with arthritis, veterans may be suffering from conditions such as back pain, COPD, neuropathy, autoimmune syndromes, organ failure, erectile dysfunction and more.
To show our appreciation, The R3 Heroes Program is proud to be offering a completely FREE stem cell therapy to Veterans in need at our Las Vegas Center of Excellence (approximately ten). The Program involves crowdsourcing for nominations.
Simply visit http://r3stemcell.com/hero for more information and to submit as many nominations as desired. Or individuals may email nominations to hero(at)r3stemcell(dot)com if desired.