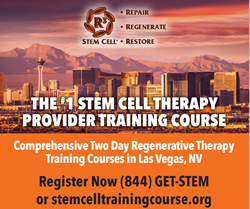 Patients considering regenerative therapies want their providers to know what they're doing and feel comfortable. We provider comprehensive knowledge and technique training so providers excel right away!
LAS VEGAS (PRWEB) October 08, 2018
R3 Stem Cell, the nation's leader in regenerative procedures, is now offering a two day comprehensive provider training course in Las Vegas Dec 7-8th! The training will include musculoskeletal injections, aesthetics, infusion training and biologics education.
With over thirty R3 Stem Cell Centers of Excellence nationwide having performing in excess of 50,000 successful regenerative procedures, R3 has now packed its first rate provider training into a 2 day course. Top notch Board Certified providers offer the training, which also includes lectures on marketing, conversion techniques and supplements to use along with regenerative procedures.
Each day will be made up of engaging presentations from industry leaders regarding the patient journey along with practical training sessions from Board Certified, Fellowship Trained providers who are experts in the procedures. First rate procedure training will be offered for musculoskeletal, systemic, and aesthetics (Injection, IV, Nebulizer, Intranasal). Real patients will receive procedures with the opportunity to ask questions, participate and become comfortable in a realistic setting.
Only thirty providers are being accepted at each workshop, with the first one occurring in Las Vegas December 7-8th. Subsequent workshops will occur regularly every two months. Those who should attend include MD's, DO's, ND's, RN's, NP's, PA's, NA's, and anyone from medical practices who would like to become comfortable with a regenerative program offering.
Each attendee will receive a binder with the presentations and a free consultation with R3 Stem Cell founder David Greene, MD, MBA. He is an expert at regenerative medicine program implementation along with stem cell marketing and will be a featured speaker at the workshop.
For those interested in signing up, visit http://stemcelltrainingcourse.org or call R3 Stem Cell at (844) GET-STEM.