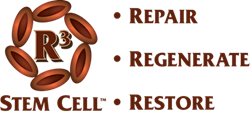 With over 10,000 successful regenerative procedures performed, R3 Stem Cell truly offers patients the best possible outcomes at over thirty Centers nationwide!
PHOENIX (PRWEB) July 25, 2018
R3 Stem Cell is now offering umbilical cord tissue regenerative procedures nationwide at over thirty Centers. The first rate stem cell therapies offer excellent outcomes, are very safe, and are performed by highly qualified providers.
Over the past few years, R3 Stem Cell has been at the forefront of regenerative therapies for all types of conditions, whether it's localized arthritis or a systemic condition. All of the procedures are performed as an outpatient, with the biologics being FDA regulated.
Umbilical cord tissue offers an impressive array of regenerative cells. These include growth factors, cytokines, stem cells, exosomes, secretomes and micro RNA. The tissue comes from consenting donors after a scheduled c-section, where the babies are fine and no embryonic stem cells are used. It's both safe and highly effective for patients with arthritis, autoimmune conditions, neurodegenerative and organ failure.
Complex conditions are treated at the R3 Concierge locations in Las Vegas and NYC by Board Certified providers. Conditions such as post-stroke, trigeminal neuralgia, COPD and others receive the umbilical cord stem cell therapies there. Each patient receives a dedicated Concierge Representative to set up a complimentary phone consultation, and assists with obtaining medical records and all travel logistics.
For those interested in receiving first rate umbilical cord stem cell therapies, simply call (844) GET-STEM today to set up a free consultation.